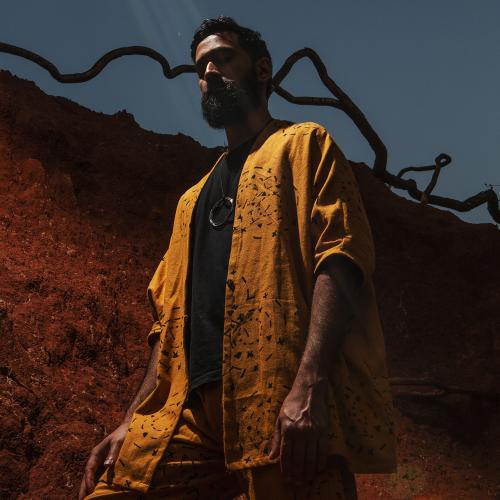 BIOGRAPHY
Born in the US, Sarathy Korwar grew up in Ahmedabad and Chennai in India. He began playing tabla aged 10, but was also drawn to the American music that he heard on the radio and leaking through the doorway of his local jazz music shop (Ahmad Jamal and John Coltrane were early discoveries). At 17 Korwar moved to Pune to study Environmental Science, but instead dedicated his time to music, practising tabla under the tutelage of Rajeev Devasthali, translating his skills to the western drum kit and playing as a session musician.
On completing these studies, he moved to London a decade ago to master the confluences of Indian classical music and jazz. Korwar has since established himself as one of the most original and compelling voices in the UK jazz scene, leading the UPAJ Collective - a loose band of South Asian jazz and Indian classical musicians brought together through a love of collaboration and improvisation who set up a residency at the Jazz Café in London. Korwar has collaborated with the likes of Shabaka Hutchings (The Comet Is Coming), clarinettist Arun Ghosh and producer Hieroglyphic Being, as well as groups Penya and Ill Considered. He has toured with Kamasi Washington, Yussef Kamaal and Moses Boyd.
Korwar's daring debut album, Day To Day, recorded with the support of the Steve Reid Foundation, was released by Ninja Tune in 2016. The album fused traditional folk music recorded with the Sidi community in India (combining East African, Sufi and Indian influences) with contemporary jazz and electronics, earning praise from the likes of Four Tet, Gilles Peterson and Floating Points. In 2018, he followed up with the live UPAJ Collective album, My East Is Your West (Gearbox Records), a critically-acclaimed take on the cultural appropriation of 'spiritual' Indo-jazz.
ALBUMS
EPS






OFFICIAL SITE
http://www.sarathykorwar.com
NEWS
OTHER
https://sarathykorwar.bandcamp.com
LIVE
Sat 8 Apr 2023
: BRDCST Festival, Brussels, BELGIUM
Thu 13 Apr 2023
: The Crescent, York, UK
Fri 14 Apr 2023
: 24 Kitchen Street, Liverpool, UK
Sun 16 Apr 2023
: Brick Lane Jazz Festival, Village Underground, London, UK
Sat 29 Apr 2023
: Turin Jazz Festival, Bunker, Turin, ITALY
Sun 30 Apr 2023
: Casa del Jazz, Rome, ITALY
Sat 13 May 2023
: Mount Pleasant Eco Park, Cornwall, UK
Tue 16 May 2023
: Brighton Festival, Concorde 2, Brighton, UK
Fri 9 Jun 2023
: Kite Festival, Kirtlington Park, Oxfordshire, UK
LIVE ARCHIVE
View previous performances