Songs From A Lost Piano
Published 28 February 2009 by TM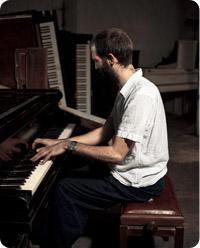 We went to see the ever entertaining and newly hirsute Matthew Bourne premiere a new conceptual work, Songs From A Lost Piano, in Leeds last night. Using six pianos salvaged from all over the north of England, and collaborating with vocalists Seaming To and Andrew Plummer, Matt teased new life out of these forgotten and abandoned instruments in various states of disrepair.
What was most surprising was the choice of material - alongside a handful of originals and improvised pieces were versions of 20th century "classics" by, among others, Barry Manilow, Elton John, and a frankly unrecognisable Billy Joel. While these were performed with a subversive and playful sense of humour, they were by no means smirking pisstakes. In fact they matched the junkshop mood of the event perfectly.
To be honest, I found some of the vocalists' self-conscious stylings a bit tiring, to the point where they got in the way of the pianos themselves, but after the interval they gave more natural performances that suited the music far better. Both singers were much more bearable when they didn't seem to be trying too hard.
It was unclear to what extent the pianos had been restored, modified or even tuned for the performance, but the effect was mesmerising. Matt's obvious love for the machines and the music they had played over decades was infectious, and he proved himself to be the missing link between Thelonious Monk and Les Dawson, a comparison I suspect he would approve of!
The event coincided with the launch party for fuseleeds09, a festival that we're quite closely involved with this year. Watch out for the full anouncement on Monday!
RECENT POSTS
ARCHIVED POSTS
2017 March
2016 May
2016 April
2016 March
2016 January
2015 December
2015 November
2015 October
2015 September
2015 July
2015 March
2015 January
2014 October
2014 August
2014 May
2014 April
2014 March
2014 February
2013 December
2013 July
2013 June
2013 May
2013 April
2013 March
2013 February
2012 December
2012 November
2012 October
2012 September
2012 August
2012 May
2012 April
2012 March
2012 February
2012 January
2011 December
2011 November
2011 October
2011 September
2011 June
2011 May
2011 April
2011 March
2011 February
2011 January
2010 December
2010 November
2010 October
2010 September
2010 August
2010 July
2010 June
2010 May
2010 April
2010 March
2010 February
2010 January
2009 December
2009 November
2009 September
2009 August
2009 July
2009 June
2009 May
2009 April
2009 March
2009 February
2009 January
2008 October
2008 April
RSS
Subscribe to the blog as an RSS Feed.