Polar Bear Join The Leaf Label
Published 1 September 2009 by BWL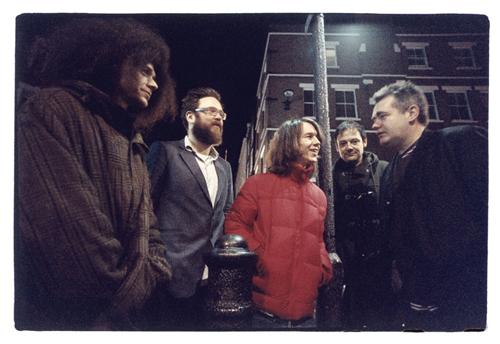 We are delighted to announce that acclaimed British "dream jazz" outfit Polar Bear have swelled the ranks of The Leaf Label's international roster. The London-based group, led by drummer Sebastian Rochford (Acoustic Ladyland, Fulborn Teversham, Basquiat Strings) will release their fourth album on Leaf early next year.
Polar Bear's second album, 2005's Held On The Tips Of Fingers, was nominated for The Mercury Prize, and also made a list of '100 Jazz Albums That Shook The World' in Jazzwise magazine.
Alongside Seb Rochford, Polar Bear is Pete Wareham (tenor sax), Mark Lockheart (tenor sax), Tom Herbert (bass) and Leafcutter John (electronics/guitar). The group will be touring extensively in the UK this autumn as well as some dates in Canada, Belgium and the Netherlands.
http://www.polarbearmusic.com
http://www.myspace.com/sebastianrochford
The shows:
Fri 18 Sep 2009 The Rex, Toronto, ON, CANADA
Sat 19 Sep 2009 Lola Festival , London, ON, CANADA
Fri 25 Sep 2009 Croydon Clocktower, Croydon, UK
Mon 12 Oct 2009 Electric Theatre, Guildford, UK
Sun 25 Oct 2009 The Glee Club, Birmingham, UK
Tue 10 Nov 2009 de Singer, Rijkevorsel, BELGIUM
Wed 11 Nov 2009 Kavka, Antwerp, BELGIUM
Thu 12 Nov 2009 November Music Festival, 's-Hertogenbosch, NETHERLANDS
Wed 18 Nov 2009 Broomhill Sculpture Park, Barnstaple, UK
Thu 19 Nov 2009 The Phoenix, Exeter, UK
Fri 20 Nov 2009 Jazz Cafe, London, UK
Tue 24 Nov 2009 Band On The Wall, Manchester, UK
Fri 27 Nov 2009 Howard Assembly Room, Leeds, UK
Sat 28 Nov 2009 De La Warr Pavilion, Bexhill-On-Sea, UK
Sun 29 Nov 2009 Colston Hall, Bristol, UK
---
Goodbye Efterklang!
Published 3 September 2009 by TM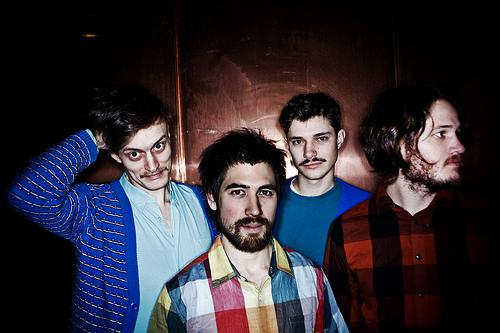 The release of Efterklang's Performing Parades live album and film on October 19 will mark a joyous but sad farewell to our Danish friends as they move to pastures new. The band have just signed to our old friends at 4AD for the world, and will release their third album proper in 2010.
The band have come on leaps and bounds since their self-released debut EP, Springer, in 2003 (which Leaf subsequently reissued following the release of debut album Tripper), and we wish the band all the best in their future endeavours. If the new songs they've been playing live over the last year are anything to go by, the next album is set to be their best yet. Rasmus, Casper, Mads and Thomas have been a delight to work with, and we will sorely miss their energy, creativity, professionalism and, above all, their music.
You can find the band's own announcement about the new deal here.
Performing Parades will be released as limited edition CD+DVD and 2LP/DVD packages.
The release will be followed on October 28 with their biggest UK show to date, with the Britten Sinfonia at the Barbican in London. More info and tickets here.
http://www.efterklang.net/home
http://www.myspace.com/efterklang
---
A Hawk And A Hacksaw Feature In Award Winning Film
Published 9 September 2009 by BWL
Jeremy Barnes and Heather Trost of A Hawk And A Hacksaw took part in the filming of Housle last year. The short film, also featuring the music of the duo, picked up Best Picture at the Albuquerque Film Festival. The film was directed and produced by James Longmire who also directed the recent live videos of tracks from AHAAH's new album Délivrance which can be found here:
'I Am Not A Gambling Man'
'The Man Who Sold His Beard'
A Hawk And A Hacksaw begin their latest North American tour this weekend with Sam Johnson (trumpet) and Mark Weaver (tuba) completing the live band. All the dates can be found here.
Or watch on Vimeo.
http://myspace.com/ahawkandahacksaw
http://ahawkandahacksaw.blogspot.com
http://www.ahawkandahacksaw.co.uk
http://theleaflabel.com/ahawkandahacksaw
---
Nancy Elizabeth new video online and album shipping this week
Published 20 September 2009 by BWL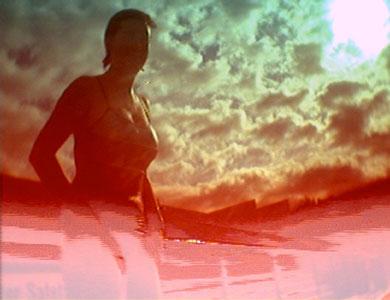 Nancy Elizabeth has released a video for her new single, 'Feet Of Courage', which is out today. Taken from Wrought Iron, the beautifully shot video was directed and filmed by Esther May Campbell and John Minton at the Portishead Open Air Pool earlier this summer. Campbell was also responsible for the BAFTA winning short film September, which was released this month in a deluxe DVD/CD/recipe book package, the soundtrack featuring Nancy Elizabeth and A Hawk And A Hacksaw.
You can watch the 'Feet Of Courage' video here:

Or youtube.
Buy the single (with remixes by Paddy Steer and Germ) here.
You can also pre-order Wrought Iron here now.
We will be shipping out physical copies of the album later this week, ahead of the official release date on Oct 5. If you order the vinyl version of the album you can get a free mp3 or flac download of the album immediately (just follow the instructions on the page). In addition, CD and LP orders will be delivered with a free copy of Nancy's 'I Used To Try' single on CD, while stocks last!
http://www.nancyelizabeth.co.uk
http://www.myspace.com/nancyelizabethcunliffe
http://www.theleaflabel.com/nancyelizabeth
---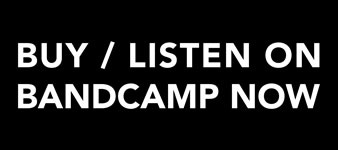 LATEST NEWS
ARCHIVED NEWS
2018 October
2018 September
2018 August
2018 July
2018 June
2018 May
2018 April
2018 March
2018 February
2018 January
2017 December
2017 November
2017 October
2017 September
2017 August
2017 July
2017 June
2017 May
2017 April
2017 March
2016 November
2016 October
2016 September
2016 August
2016 July
2016 June
2016 May
2016 April
2016 March
2016 February
2016 January
2015 December
2015 November
2015 October
2015 September
2015 August
2015 July
2015 June
2015 March
2015 February
2015 January
2014 December
2014 October
2014 September
2014 August
2014 July
2014 June
2014 May
2014 April
2014 March
2014 February
2014 January
2013 December
2013 November
2013 October
2013 September
2013 August
2013 July
2013 June
2013 May
2013 April
2013 March
2013 February
2013 January
2012 December
2012 November
2012 October
2012 September
2012 August
2012 July
2012 June
2012 May
2012 April
2012 March
2012 February
2012 January
2011 December
2011 November
2011 October
2011 September
2011 August
2011 June
2011 May
2011 April
2011 March
2011 February
2010 December
2010 November
2010 October
2010 September
2010 August
2010 July
2010 June
2010 May
2010 April
2010 March
2010 February
2010 January
2009 December
2009 November
2009 October
2009 September
2009 August
2009 July
2009 June
2009 May
2009 April
2009 March
2009 February
2009 January
2008 December
2008 November
2008 October
RSS
Subscribe to Blog as an RSS Feed.