Wildbirds & Peacedrums with Voices Tour Trailer
Published 27 April 2010 by BWL
Wildbirds & Peacedrums return in May with a very special European tour and Retina, the first of two vinyl only EPs. The Gothenburg-based duo will be accompanied by a handpicked 12-strong Swedish choir on the cluster of dates, which begins at the Pavement-curated ATP on Friday 14 May.
The release date for Retina has been put back to May 24 due to production problems, but it will be worth the wait - the 5-track EP will be pressed on white vinyl and housed in a stunning black and silver sleeve. We are confident that the band will have copies of the EP to sell at the shows, and we will make them available to purchase through our shop as soon as we can.
Here's a short taster of what to expect from the upcoming shows and EP, compiled from live footage from the recording in Iceland this January:
And youtube.
We are offering a free download of 'Fight For Me' from Retina to subscribers to the Leaf mailing list. Find out more by signing up or logging in here:
http://leaf.greedbag.com/subscribe
You can also hear 'Fight For Me' on the band's myspace:
http://myspace.com/wildbirdsandpeacedrums
The second EP, Iris, will follow on June 21, and both EPs will be compiled as an album, entitled Rivers, to be released on August 23 on CD and download.
Wildbirds & Peacedrums and Voices:
Friday 14 May - ATP Festival, Minehead, UK
Saturday 15 May - Bishopsgate Institute, London, UK (with Choir Of Young Believers)
Sunday 16 May - Café De La Danse, Paris, France
Monday 17 May - Dampfzentrale, Bern, Switzerland
Wednesday 19 May - Babel, Malmö, Sweden
Thursday 20 May - Jazzhouse, Copenhagen, Denmark
Friday 21 May - Blå, Oslo, Norway
Saturday 22 May - Södra Teatern, Stockholm, Sweden
Sunday 23 May - Pusterviksteatern, Gothenburg, Sweden
---
Oh No Ono EP, European Tour, Video Game And Bear In Heaven Remix
Published 28 April 2010 by BWL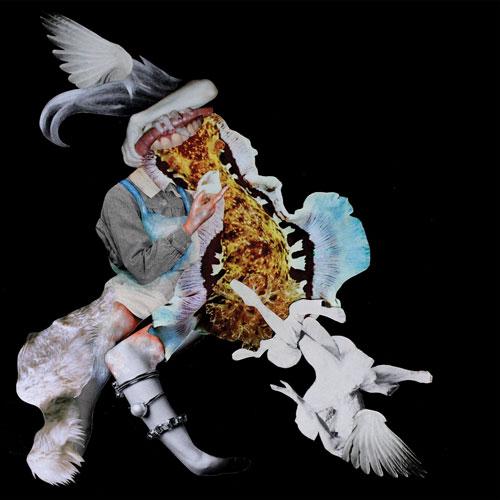 Oh No Ono are in the London this weekend for two shows in Camden, one at the Proud Gallery on Saturday and the other as part of The Camden Crawl on Sunday. A European tour follows later in the month, with all the dates below.
The Danish quartet released Eggs in February to widespread acclaim, and the 'Internet Warrior' EP is released on May 17 as a download (with a limited vinyl remix EP to follow). The single includes remixes by Caribou, Phenomenal Handclap Band, Shlohmo, Zambri and The Depreciation Guild (members of The Pains Of Being Pure At Heart).
To mark the release, Oh No Ono have created a space invaders-style video game which you can find on their website.
Meanwhile, the band have remixed a track by Brooklyn's Bear in Heaven which was previewed by Pitchfork earlier this week.
Oh No Ono live:
Fri 30 Apr - Train, Aarhus, DENMARK
Sat 1 May - Proud Camden, London, UK
Sun 2 May - Camden Crawl, London, UK
Fri 14 May - Handelsbeurs, Gent, BELGIUM
Sat 15 May - La Fleche D'Or, Paris, FRANCE
Mon 17 May - The Luminaire, London, UK
Wed 19 May - Liverpool Sound City, The Kazimier, Liverpool, UK
Thu 20 May - Art Rock Festival, St Brieuc, FRANCE
Sat 22 May - Prinzenbar, Hamburg, GERMANY
Sun 23 May - **NEW VENUE** Comet Club, Berlin, GERMANY
Mon 24 May - Studio 672, Cologne, GERMANY
Tue 25 May - Nachtleben, Frankfurt, GERMANY
Wed 26 May - 59:1, Munich, GERMANY
Thu 27 May - Salumeria della Musica, Milan, ITALY
Fri 28 May - Bronson, Ravenna, ITALY
Sat 29 May - Seewiesen Festival , Kleinreifling, AUSTRIA
Sun 30 May - 007, Prague, CZECH REPUBLIC
Fri 23 Jul - Tivoli Friheden, Aarhus, DENMARK
http://www.ohnoono.com
http://www.myspace.com/ohnoono
http://www.theleaflabel.com/ohnoono
---
Nancy Elizabeth On 'Kept Impulses' UK Tour With James Blackshaw & Hauschka
Published 29 April 2010 by BWL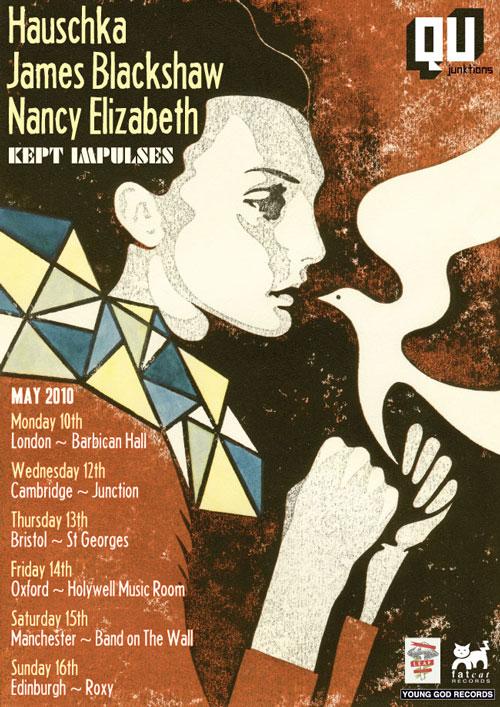 Nancy Elizabeth begins her collaborative tour in May with 12-string guitarist James Blackshaw and prepared piano player Hauschka. Under the banner 'Kept Impulses', the dates begin with a prestigious show at the Barbican in London on May 10.
The three artists will be on stage together throughout, first performing on each other's songs in intimate musical conversation, before being joined by a chamber orchestra (directed by David Coulter and featuring multi-instrumentalist Thomas Bloch and harpist Julia Thornton) to play specially-commissioned arrangements of their material. This is a unique opportunity to hear three great individualists creating beautifully-matched music from the common ground that they share in modern folk, contemporary composition and bewitching song.
Here are the Kept Impulses dates plus a show in Malta and an appearance at the Big Session festival in June:
Mon 10 May - Kept Impulses, Barbican, London, UK
Wed 12 May - Kept Impulses, The Junction, Cambridge, UK
Thu 13 May - Kept Impulses, St George's, Bristol, UK
Fri 14 May - Kept Impulses, Holywell Music Room, Oxford, UK
Sat 15 May - Kept Impulses, Band On The Wall, Manchester, UK
Sun 16 May - Kept Impulses, The Roxy, Edinburgh, UK
Wed 9 Jun - MITP Theatre, Valletta, MALTA
Sat 19 Jun - Big Session, Leicester, UK
http://www.myspace.com/nancyelizabethcunliffe
http://www.theleaflabel.com/nancyelizabeth
---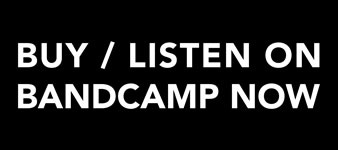 LATEST NEWS
ARCHIVED NEWS
2018 September
2018 August
2018 July
2018 June
2018 May
2018 April
2018 March
2018 February
2018 January
2017 December
2017 November
2017 October
2017 September
2017 August
2017 July
2017 June
2017 May
2017 April
2017 March
2016 November
2016 October
2016 September
2016 August
2016 July
2016 June
2016 May
2016 April
2016 March
2016 February
2016 January
2015 December
2015 November
2015 October
2015 September
2015 August
2015 July
2015 June
2015 March
2015 February
2015 January
2014 December
2014 October
2014 September
2014 August
2014 July
2014 June
2014 May
2014 April
2014 March
2014 February
2014 January
2013 December
2013 November
2013 October
2013 September
2013 August
2013 July
2013 June
2013 May
2013 April
2013 March
2013 February
2013 January
2012 December
2012 November
2012 October
2012 September
2012 August
2012 July
2012 June
2012 May
2012 April
2012 March
2012 February
2012 January
2011 December
2011 November
2011 October
2011 September
2011 August
2011 June
2011 May
2011 April
2011 March
2011 February
2010 December
2010 November
2010 October
2010 September
2010 August
2010 July
2010 June
2010 May
2010 April
2010 March
2010 February
2010 January
2009 December
2009 November
2009 October
2009 September
2009 August
2009 July
2009 June
2009 May
2009 April
2009 March
2009 February
2009 January
2008 December
2008 November
2008 October
RSS
Subscribe to Blog as an RSS Feed.