A Hawk And A Hacksaw Announce Summer Appearances
Published 20 May 2010 by BWL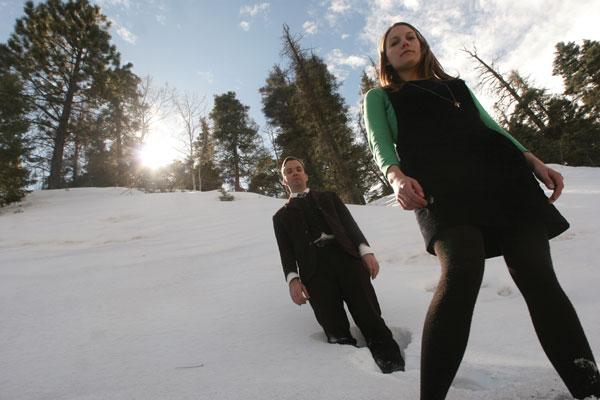 A Hawk And A Hacksaw have announced a European tour this summer. The band will consist of the core duo of Jeremy Barnes (accordion, percussion, vocals) and Heather Trost (violin, Stroh violin) with the addition of regular collaborator Sam Johnson (trumpet), and newcomer Issa Malluf (dumbek/riq).
The band will be roadtesting new material from their forthcoming fifth album, which is pencilled for release in the autumn. The tour takes in Standon Calling and Klangbad festivals as well as an intimate London show at Café Oto on August 3, with support coming from The Family Elan.
Here are all the dates:
Thursday 15 July - Chelsea, Vienna, AUSTRIA
Friday 16 July - SomlóHangja Fesztivál, Somló, HUNGARY
Saturday 17 July - Colours Of Ostrava Festival, Ostrava, CZECH REPUBLIC
Tuesday 20 July - Dirty Deal Cafe, Riga, LATVIA
Wednesday 21 July - Stroomi Beach Youth Centre, Tallinn, ESTONIA
Thursday 22 July - YK, Helsinki, FINLAND
Saturday 24 July - Gagnef X, Gagnef, SWEDEN
Sunday 25 July - Husets Teater, Copenhagen, DENMARK
Tuesday 27 July - Piazza Municipio, Terracina, ITALY
Wednesday 28 July - Beat Cafe, Vasto, ITALY
Thursday 29 July - Mole Vanvitelliana, Ancona, ITALY
Friday 30 July - Hana-Bi, Ravenna, ITALY
Saturday 31 July - Piazza, Ovaro, ITALY
Monday 2 August - Soundlabs Festival, Pescara, ITALY
Tuesday 3 August - Café Oto, London, UK
Wednesday 4 August - Kazimier, Liverpool, UK
Thursday 5 August - The Harley, Sheffield, UK
Friday 6 August - Standon Calling, Standon, UK
Saturday 7 August - OFF Festival, Katowice, POLAND
Sunday 8 August - Klangbad Festival, Scheer, GERMANY
http://ahawkandahacksaw.co.uk
http://myspace.com/ahawkandahacksaw
http://theleaflabel.com/ahawkandahacksaw
---
Efterklang To Perform Parades Twice This Summer
Published 21 May 2010 by BWL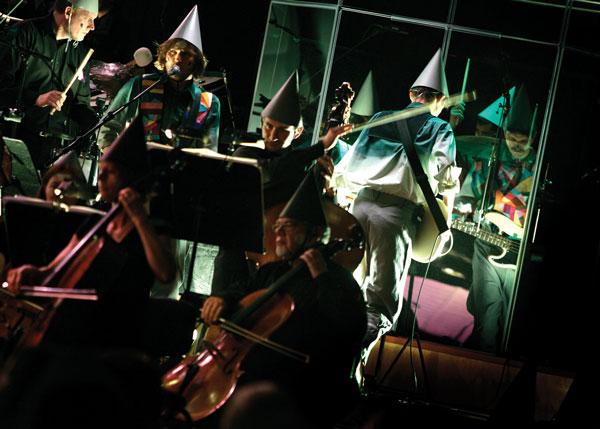 Efterklang's Performing Parades project returns for two very special performances this summer. First up, on June 19, is a performance with Metropole Orkest at the Holland Festival in Amsterdam. On August 11 Efterklang team up with the Swedish Radio Symphony Orchestra for a big open air concert for Stockholms Kulturfestival.
Performing Parades premiered in September 2008 when Efterklang collaborated with The Danish National Chamber Orchestra on a special performance of Efterklang's second album Parades. The album was performed in its entirety at Danish National Radio's new Koncerthuset concert hall. The spectacular performance featuring more than 50 musicians and scenography and costumes by Danish art and design studio Hvass&Hannibal was filmed and recorded. The concert was released as a CD+DVD and 2LP+DVD in October 2009.
In 2009 Efterklang collaborated with the Britten Sinfonia and performed Parades on two occasions in the UK. First at the Fuse Festival in Leeds, and later at a packed Barbican Hall in London in October 2009.
The dates of the new shows are as follows:
Saturday June 19
Muziekgebouw ann't IJ, Holland Festival, Amsterdam, NL
Performing Parades with Metropole Orkest
Conducted by Vince Mendoza
Wednesday August 11
Stockholms Kulturfestival, SE
Performing Parades with Swedish Radio Symphony Orchestra
Conducted by Paul Hoskins
http://efterklang.net
http://myspace.com/efterklang
http://twitter.com/efterklang
http://theleaflabel.com/efterklang
---
Mark Lockheart Wins Jazz Musician Of The Year
Published 21 May 2010 by TM
Polar Bear's Mark Lockheart won 'Musician Of The Year' at the 2010 Parliamentary Jazz Awards, which were held on Wednesday night at the House of Commons in London (aka a giant fresher's fair for new MPs, I would imagine).
The pic above shows Mark looking slightly awkward being presented with his award by Michael Connarty MP and Lord Tony Colwyn, Co-Chairmen of APPJAG (All Party Parliamentary Jazz Appreciation Group, no less). Who wouldn't?
The last year has seen saxophonist Lockheart release Days Like These with the NDR Big Band along with Polar Bear's Peepers, which was released to great acclaim in March.
Polar Bear's band leader and percussionist, Seb Rochford, was also nominated for the same award. You can read more here.
---
Free Oh No Ono Remix
Published 25 May 2010 by BWL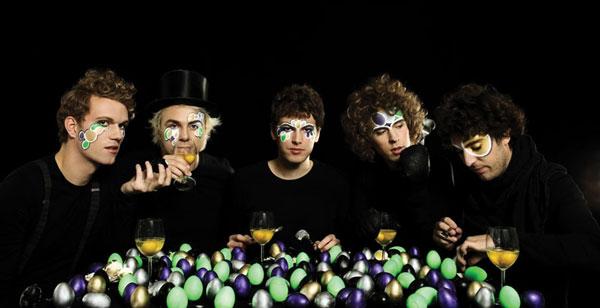 Oh No Ono's 'Internet Warrior', taken from their album Eggs, has been remixed by Brooklyn's The Depreciation Guild (members of Pains Of Being Pure At Heart) and you can download it for free from the Stereogum website now. Click here for the post.
As we mentioned previously, the Danish band released the 'Internet Warrior' EP digitally earlier this month, featuring remixes by Caribou, Phenomenal Handclap Band, Shlohmo and Zambri as well as The Depreciation Guild. Anyway, the 12" EP will be available from our shop next week and will be in record stores from June 14. Of course if you order the vinyl from our store, you will be entitled to a free download of the download EP. Click here!
Meanwhile the band are currently on a European tour. You can see their dates here:
http://www.theleaflabel.com/en/live
http://www.ohnoono.com
http://www.myspace.com/ohnoono
http://www.theleaflabel.com/ohnoono
---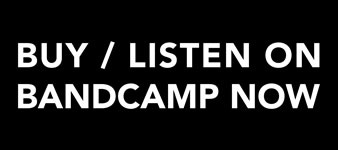 LATEST NEWS
ARCHIVED NEWS
2018 December
2018 November
2018 October
2018 September
2018 August
2018 July
2018 June
2018 May
2018 April
2018 March
2018 February
2018 January
2017 December
2017 November
2017 October
2017 September
2017 August
2017 July
2017 June
2017 May
2017 April
2017 March
2016 November
2016 October
2016 September
2016 August
2016 July
2016 June
2016 May
2016 April
2016 March
2016 February
2016 January
2015 December
2015 November
2015 October
2015 September
2015 August
2015 July
2015 June
2015 March
2015 February
2015 January
2014 December
2014 October
2014 September
2014 August
2014 July
2014 June
2014 May
2014 April
2014 March
2014 February
2014 January
2013 December
2013 November
2013 October
2013 September
2013 August
2013 July
2013 June
2013 May
2013 April
2013 March
2013 February
2013 January
2012 December
2012 November
2012 October
2012 September
2012 August
2012 July
2012 June
2012 May
2012 April
2012 March
2012 February
2012 January
2011 December
2011 November
2011 October
2011 September
2011 August
2011 June
2011 May
2011 April
2011 March
2011 February
2010 December
2010 November
2010 October
2010 September
2010 August
2010 July
2010 June
2010 May
2010 April
2010 March
2010 February
2010 January
2009 December
2009 November
2009 October
2009 September
2009 August
2009 July
2009 June
2009 May
2009 April
2009 March
2009 February
2009 January
2008 December
2008 November
2008 October
RSS
Subscribe to Blog as an RSS Feed.