Jherek Bischoff releases Record Store Day 7
Published 20 April 2012 by RM
As eagle-eyed record collectors will have spotted already, our latest signing Jherek Bischoff is to release a limited edition 7" single for Record Store Day. Which is tomorrow, in case you hadn't realised.
The single comprises two tracks from Jherek's forthcoming album, ''Composed'' (released May 28). On one side is multi-talented composer/arranger/producer Jherek's collaboration with ex-Talking Head and (inter)national treasure David Byrne in the form of the sumptuous 'Eyes'. On the flip is 'Young And Lovely', a duet between Zac Pennington (Parenthetical Girls) and French internet sensation Soko.
You can take a listen to both tracks here now!
The singles are individually hand-numbered, and packaged in a full colour die-cut sleeve. There are 500 copies for Europe through Leaf, and a further 500 available for the rest of the world through Brassland.
For those unable to get to a participating record shop this Saturday, any remaining copies will be made available through the Leaf shop from next Monday.
Don't forget that there's a trailer for Jherek's album on his website.
jherekbischoff.com/
theleaflabel.com/jherekbischoff
@jherekbischoff
facebook.com/jherekbischoff
---
AU release new video
Published 26 April 2012 by BWL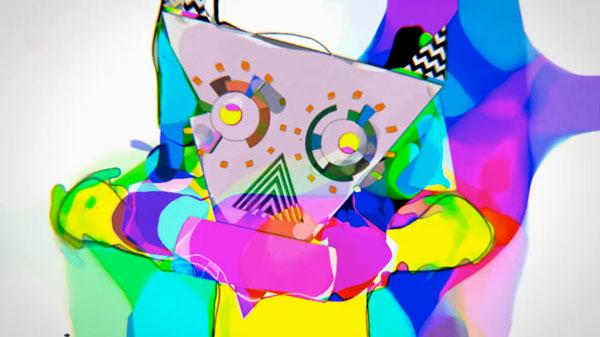 AU have a striking new animated video for 'OJ', taken from Both Lights, which was released last month. The vibrant, acid-soaked video was directed by Japanese film-maker Takafumi Tsuhiya who also worked with the Portland outfit on 'Ida Walked Away' in 2009. You can also grab a free download of 'OJ' over on SoundCloud.
Here's the video (and YouTube if you prefer):
AU are currently touring Europe, all their shows can be seen here.
au-au-au.com
theleaflabel.com/au
@autheband
facebook.com/AUband
---
Sebastian Rochford & Jehst: the fourth instalment of Days And Nights At The Takeaway
Published 27 April 2012 by RM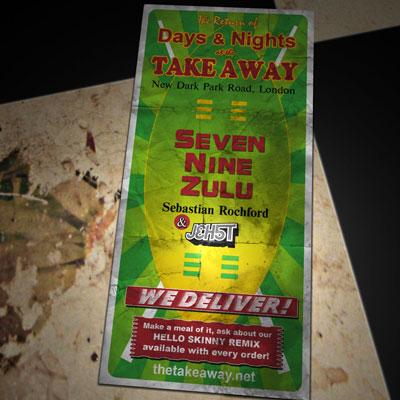 Influential British MC Jehst is the latest co-conspirator in Sebastian Rochford's singles club Days And Nights At The Takeaway. April's single, the raw and heavy 'Seven Nine Zulu' is available from today.
Percussionist Tom Skinner steps up with a cracking remix under his Hello Skinny guise.
You can stream and buy the tracks, along with the previous three releases, via Seb's Bandcamp, as well as all your usual digital stores.
thetakeaway.net
theleaflabel.com/thetakeaway
@atthetakeaway
facebook.com/atthetakeaway
---
Wildbirds & Peacedrums' performance from A Room For London
Published 30 April 2012 by BWL
Last week, after just 48 hours in the boat on top of the Queen Elizabeth Hall, Wildbirds & Peacedrums performed a series of improvised pieces, as part of the art installation A Room For London.
You can watch an interview with the pair in the boat on the Guardian website.
Due to technical issues the performance was not streamed live but you can watch it here now.
@wbpd
facebook.com/wildbirdsandpeacedrums
wildbirdsandpeacedrums.com
theleaflabel.com/wildbirdsandpeacedrums
---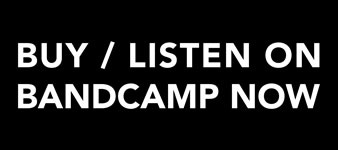 LATEST NEWS
ARCHIVED NEWS
2018 October
2018 September
2018 August
2018 July
2018 June
2018 May
2018 April
2018 March
2018 February
2018 January
2017 December
2017 November
2017 October
2017 September
2017 August
2017 July
2017 June
2017 May
2017 April
2017 March
2016 November
2016 October
2016 September
2016 August
2016 July
2016 June
2016 May
2016 April
2016 March
2016 February
2016 January
2015 December
2015 November
2015 October
2015 September
2015 August
2015 July
2015 June
2015 March
2015 February
2015 January
2014 December
2014 October
2014 September
2014 August
2014 July
2014 June
2014 May
2014 April
2014 March
2014 February
2014 January
2013 December
2013 November
2013 October
2013 September
2013 August
2013 July
2013 June
2013 May
2013 April
2013 March
2013 February
2013 January
2012 December
2012 November
2012 October
2012 September
2012 August
2012 July
2012 June
2012 May
2012 April
2012 March
2012 February
2012 January
2011 December
2011 November
2011 October
2011 September
2011 August
2011 June
2011 May
2011 April
2011 March
2011 February
2010 December
2010 November
2010 October
2010 September
2010 August
2010 July
2010 June
2010 May
2010 April
2010 March
2010 February
2010 January
2009 December
2009 November
2009 October
2009 September
2009 August
2009 July
2009 June
2009 May
2009 April
2009 March
2009 February
2009 January
2008 December
2008 November
2008 October
RSS
Subscribe to Blog as an RSS Feed.