Wildbirds & Peacedrums Give Away Remixes + RockFeedback Session
Published 6 October 2010 by BWL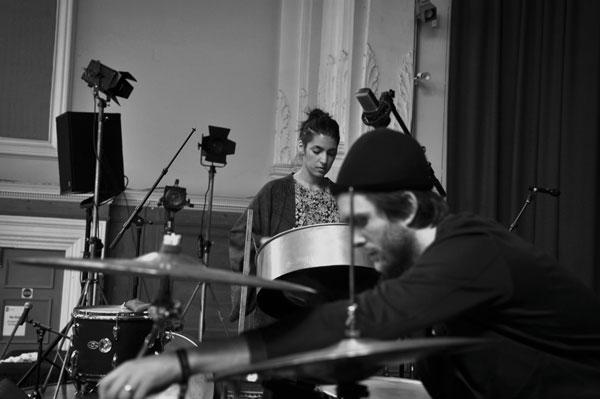 Wildbirds & Peacedrums have just begun their 'with Voices' European tour which culminates in a show with The Roundhouse Experimental Choir at London's Union Chapel on November 27. The Swedish duo are joined by a choir on each of these dates, playing music from their new album Rivers, which was released in August. For full tour details please visit our live section.
Swedish compatriot Axel Willner, better known as The Field, has remixed 'The Well' from Rivers, which was premiered on Stereogum as a free download late last week. Click here to read the post and grab an mp3.
We are also giving subscribers to The Leaf Label's mailing list the chance to download an exclusive remix of 'Fight For Me'. Vancouver-based producer, DJ and founder of Lighta! Sound, Michael Red, approached Wildbirds in August with his minimal remix of the Rivers album track under his artist name mred, and we liked it so much we thought we'd give you the chance to hear it. You can get your hands on a free mp3 by signing up or logging in here.
The duo recorded a session and interview with RockFeedback at The Lexington on their last visit to London and you can now find the video online. Mariam and Andreas perform 'The Drop', 'The Course' and 'The Wave' from Rivers and 'The Way Things Go' from their debut Heartcore. Watch the video here.
LATEST NEWS
LATEST RELEASES
ARCHIVED NEWS
2015 August
2015 July
2015 June
2015 March
2015 February
2015 January
2014 December
2014 October
2014 September
2014 August
2014 July
2014 June
2014 May
2014 April
2014 March
2014 February
2014 January
2013 December
2013 November
2013 October
2013 September
2013 August
2013 July
2013 June
2013 May
2013 April
2013 March
2013 February
2013 January
2012 December
2012 November
2012 October
2012 September
2012 August
2012 July
2012 June
2012 May
2012 April
2012 March
2012 February
2012 January
2011 December
2011 November
2011 October
2011 September
2011 August
2011 June
2011 May
2011 April
2011 March
2011 February
2010 December
2010 November
2010 October
2010 September
2010 August
2010 July
2010 June
2010 May
2010 April
2010 March
2010 February
2010 January
2009 December
2009 November
2009 October
2009 September
2009 August
2009 July
2009 June
2009 May
2009 April
2009 March
2009 February
2009 January
2008 December
2008 November
2008 October
RSS
Subscribe to News as an RSS Feed.