Jherek Bischoff scores
Published 2 October 2012 by BWL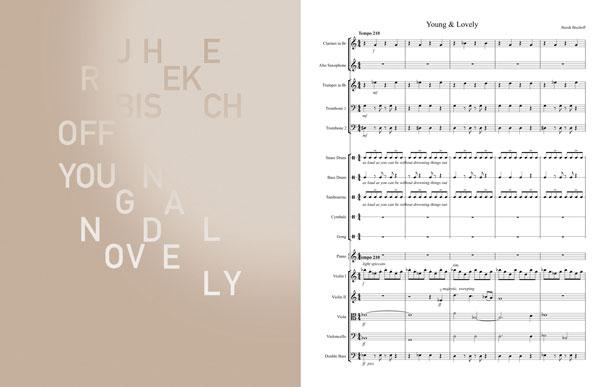 Jherek Bischoff is to release an instrumental version of his recent Composed album, entitled Scores: Composed Instrumentals. This version of the album may omit the vocals of David Byrne, Caetano Veloso et al, but it offers a new and rewarding way to explore Jherek's work as a composer, arranger and producer. Unusually, this digital only release also provides an opportunity to get your hands on the actual musical score as a series of pdf booklets with the download.
The 'deluxe' version of the album, including the score transcripts, will be available exclusively through Leaf's online store from this week. The 'standard' album will be also released through iTunes, Amazon, Spotify, etc from October 22, coinciding with the beginning of Jherek's European tour with Amanda Palmer (see our live page). You can read Jherek's take on the controversy surrounding Amanda's decision to crowdsource musicians for the current tour here.
Jherek is encouraging fans to record versions of his songs and post them on his Facebook and Twitter accounts, with prizes for the best versions.
For more information on the original version of the album, take a look at the Composed page on the website.
jherekbischoff.com
theleaflabel.com/jherekbischoff
@jherekbischoff
facebook.com/jherekbischoff
LATEST NEWS
LATEST RELEASES
ARCHIVED NEWS
2014 April
2014 March
2014 February
2014 January
2013 December
2013 November
2013 October
2013 September
2013 August
2013 July
2013 June
2013 May
2013 April
2013 March
2013 February
2013 January
2012 December
2012 November
2012 October
2012 September
2012 August
2012 July
2012 June
2012 May
2012 April
2012 March
2012 February
2012 January
2011 December
2011 November
2011 October
2011 September
2011 August
2011 June
2011 May
2011 April
2011 March
2011 February
2010 December
2010 November
2010 October
2010 September
2010 August
2010 July
2010 June
2010 May
2010 April
2010 March
2010 February
2010 January
2009 December
2009 November
2009 October
2009 September
2009 August
2009 July
2009 June
2009 May
2009 April
2009 March
2009 February
2009 January
2008 December
2008 November
2008 October
RSS
Subscribe to News as an RSS Feed.