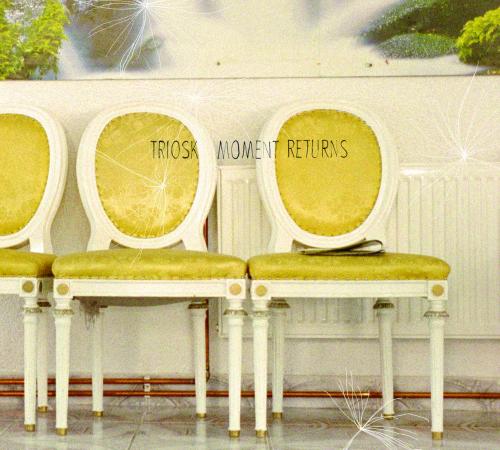 Moment Returns
by
Triosk
Formats:
CD (BAY 39CD) Limited Edition Vinyl LP (1,000 copies) (BAY 39V) Digital (BAY 39E)
Release Date:
11 October 2004
Formed in 2001, Sydney's Triosk present their first proper full-length record, released internationally on The Leaf Label. Moment Returns sets a new standard for improvisational musicians working with electronics, as the band search for playful new ways to combine the sound and unity of purpose of the great jazz piano trios with new compositional forms and the textures and processes of minimalism and electronic music. The result is warm and feline and quietly innovative, a triumph of musical charisma over mere technique.
Triosk are three young Australian musicians: Adrian Klumpes (piano/keyboards), Laurence Pike (drums) and Ben 'Donny' Waples (double bass). All three perform regularly with different combinations of musicians around Australia. Inspired by a chance encounter with German producer Jan Jelinek's groundbreaking Loop-finding-jazz-records album from 2001, the trio began working on a hybrid of the two forms. When Jelinek met Triosk on a trip to Australia, he was excited by the notion of collaboration, and as a result, the album 1+3+1 was conceived, and released by Stefan Betke's ~scape imprint in late 2003. The recording began with Jelinek's fundamental tracks, over which Triosk laid down their own acoustic work. Then, they sent the material back to Jelinek, who added final touches.
The tracks for Moment Returns were begun during the same period as 1+3+1 – in fact, just a day later ('Chrono' and 'I Am A Beautiful And Unique Snowflake' contain some of those Jelinek samples). Recorded live around this sampled foundation, the trio place their MiniDisc discoveries directly in the centre of proceedings, humanizing the electronic crackles with acoustic invention.
Freed up from any centerpiece instrument, the pieces breathe and quiver with life. What's central to each composition is that loose feel, that endless falling apart that marries jazz to electronics. And it's upon this wreckage that Triosk build something entirely new.
TRACKS
1. The Streets Are Empty
2. Chronosynclastic Infundibula
3. Love Chariot
4. Two; Twelve
5. Tomorrowtoday (part 1)
6. Tomorrowtoday (part 2)
7. Re-ignite
8. Awake In The Deep
9. I Am A Beautiful And Unique Snowflake
10. Goodnight
REVIEWS
All Music Guide
Pitchfork