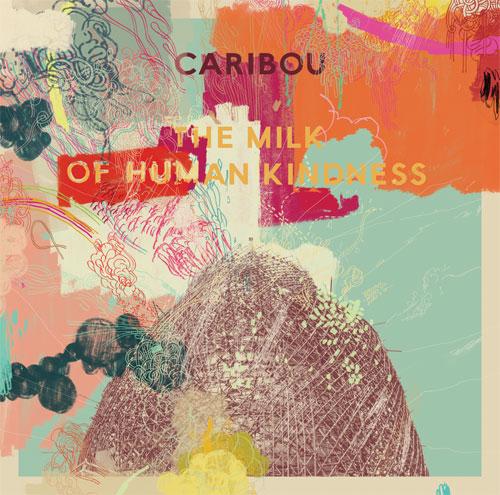 The Milk Of Human Kindness
by
Caribou
Formats:
CD (BAY 42CD) Limited edition gatefold vinyl LP (BAY 42V) Limited edition 2013 vinyl reissue LP (BAY 42VC) Limited edition 2021 black vinyl repress (1000 copies) (BAY 42V) Digital (BAY 42E)
Release Date:
18 April 2005
The 2021 black vinyl reissue (limited to 1000 copies) is available here.
If it wasn't true, it would beggar belief... Young, talented independent songwriter/producer (Canadian-born, London-based Dan 'Manitoba' Snaith), gets subpoenaed by one of the original New York punks (Handsome Dick Manitoba, of The Dictators) for… trademark infringement. Sounds crazy, right?
Despite Handsome Dick never having released an album under the actual Manitoba name, he showed no signs of backing off, and Snaith was forced to make a decision. Rather than face a US court case he couldn't afford to lose, Dan Snaith reluctantly bowed to the veteran punk's legal demands, and changed his nom de rock to Caribou. No news yet on whether the remote Canadian province of Manitoba (whence Snaith took his moniker) is planning on changing its name…
Disillusioned, but resolute, Snaith took the blows in his stride. After four years of making music part-time, touring on college breaks while completing his PhD in Mathematics, his studies were coming to an end. From looking forward to concentrating full-time on music, he was suddenly back at square one, having to re-write his artistic history and start afresh. Working on his third album, the stakes suddenly seemed a lot higher. The music mattered more than ever.
Each of the three Manitoba/Caribou albums is highly distinctive. Start Breaking My Heart (2001) rivaled the likes of Boards of Canada for exquisite melodies and a yearning sense of nostalgia, while the critical and commercial leap forward of Up In Flames (2003) was like being unleashed in an unparalleled, magical fairyland of riotous, ecstatic sound. The band toured the world for a year (in bear masks) to captivated audiences, performing with peers and heroes like Stereolab, Prefuse 73, Four Tet and Broadcast. The live touring trio for Up In Flames involved two drummers, alongside the blinding day-glo shimmer of electronics, guitar, glockenspiel and keyboards. It was all about expressing a bright, heavy and happy cacophony.
The first thing you notice about The Milk of Human Kindness is the emotional depth and range. The bear masks are off, the naked passions are running free. Like a lost album that's just been rediscovered in a basement for the first time since 1973, it's part reflective, campfire-comedown, part rampage of sonic discovery, reveling in energy and motion.
Rather than a rainbow blur, the album's sounds are distinctive and dynamic. From the carnival-esque whirl of ridiculous melodies, effusive noise, stampeding beats and furiously harmonised vocals of first single Yeti, then veering from insanely loud and aggressive bursts ('Hands First'), to military tattoos, unexpected showers of Indian bells ('Brahminy Kite'), and almost renaissance-style hip-hop laced with blissful piano melodies ('Lord Leopard, Pelican Narrows'), free-spirited musical abandon abounds.
Some parts sound old-fashioned. 'Bees' could be played by weathered bluesmen battling divorce and the taxman. 'Barnowl' (released as an ultra-limited one-sided 12" single) sounds like as blissful a rhapsody as has ever been committed to tape.
Dan sings on five tracks, revealing a vulnerable side on the vocal harmony-led album centrepiece, 'Hello Hammerheads', which finds him getting alone and intimate on acoustic guitar. Laptop who?
Dare we to suggest that The Milk of Human Kindness manages to sound like nothing you've ever heard before? Inspired by the fierce MO of musicians like Lightning Bolt, Animal Collective and Kanye West – the noisiest, weirdest bands around, and a 21st century gospel singer – impassioned vitality comes across in music that's deeply involved, and filled with wide-eyed, joyous emotion.
The Milk of Human Kindness – you'll feel it in your heart, your bones and your feet.
TRACKS
1. Yeti
2. Subotnick
3. A Final Warning
4. Lord Leopard
5. Bees
6. Hands First
7. Hello Hammerheads
8. Brahminy Kite
9. Drumheller
10. Pelican Narrows
11. Barnowl
REVIEWS
Metacritic
All Music Guide
BBC
Pitchfork