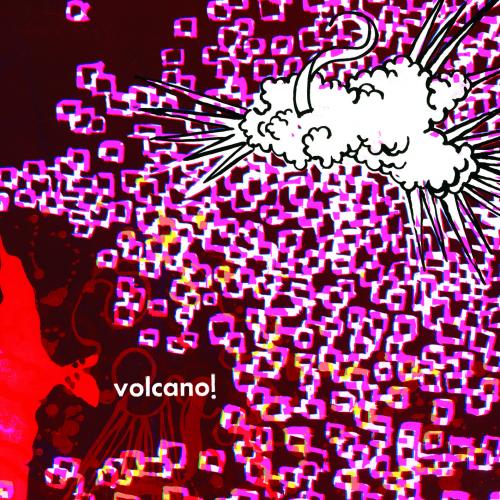 Beautiful Seizure
by
volcano!
Formats:
CD (BAY 54CD) Digital (BAY 54E)
Release Date:
20 March 2006
The Leaf Label has a long history of releasing adventurous, original and gifted artists from around the world, but for the first time in their history, they've found a rock band fit for inclusion. Beautiful Seizure is the debut album from the young Chicago trio volcano!, and it's an intense, exhilarating and immensely rewarding ride.
volcano! are creatively white-hot and ferociously innovative. What may at first sound chaotic and unplanned reveals itself on repeated listening as meticulously structured: rhythms gather, flicker, melt (down) and emerge as something different; splenetic episodes give way to passages of hymnal calm which in turn are shattered as language breaks down into strobe-like stuttering and is tugged back into line by Sam Scranton's insistent drumming; silvery shards of controlled static ride high above everything. Melodies are stretched to and beyond breaking point, Aaron With's guitar shifts between a ragged, feverish dissonance and bright spaciousness ('La Lluvia' is even lush…). There are no boundaries and no indulgences, nothing here that's hackneyed or extraneous.
Beautiful Seizure is driven by a relentless exploratory intelligence, but it would be a mistake to consider volcano!'s music as purely cerebral. The lyrics would be fascinating on their own: anxious, humorous, angry and longing, made even more so by Aaron's sinewy delivery that recalls Black Francis' most ribald moments and Thom Yorke's most commanding – sometimes violent, often vulnerable.
Comparisons could be made with the fervent dynamism of Deerhoof or Black Dice, and there's an inquisitiveness in bass/electronics man Mark Cartwright's real-life samples, but it's their stunning live show marks volcano! out as a unique band carving their own auspicious path.
Beautiful Seizure was released in North America in late 2005, where volcano! (yes, the lower case 'v' and exclamation mark are deliberate!) are already creating a considerable buzz:
"Emotionally complex, freaky and playful - unlike anything out there now" UR Chicago – cover stars!
"[volcano!] confound the expectations that normally bracket drums-guitar-noise free-spaz. volcano!'s singer doesn't just randomly grab from a bag of party tricks - he unveils his ideas with a mischievousness that recalls a less histrionic version of Xiu Xiu's Jamie Stewart" Chicago Reader
"[volcano!] send a message to anybody currently in a band or thinking of starting one… you are all falsehoods; we are the truth. You talk of being influenced by Can, Ornette Coleman, Velvet Underground, NWA, et al; we shall influence others. You sound like most other bands; we sing tango, take medieval battle-axes to time signatures, and make guitars sound like lawnmowers in trash compactors... on key.
"volcano!'s innovation is so powerful, it feels confrontational... Seizure conveys an aura of both impending miracle and plague, and, in its enormity, sounds like the soundtrack to the bible"
Fader Magazine
"Full of unpredictable, volatile compositions that sweep varying styles and moods together like dry leaves before setting them ablaze."
Pitchfork 7.4/10
"What volcano! have achieved, in simple terms, is to create the most forward-looking, genre-eschewing, sense-battering album I've honestly ever heard"
Drowned In Sound 10/10
"This trio stands almost alone in a barely tilled (left) field. The perfect balance between precise order and apparent chaos."
Time Out
TRACKS
1. Kalamazoo
2. Easy Does It
3. Fire Fire
4. $40,000 Plus Interest
5. Larchmontt's Arrival
6. La Lluvia
7. Red And White Bells
8. Apple Or A Gun
9. Frozen In Escape
10. Before The Suburbs
11. Hello Explosion
12. Pulling My Face In And Out Of Distortion, I Blink Too Much
REVIEWS
Drowned in Sound
Pitchfork
OTHER
Bandcamp