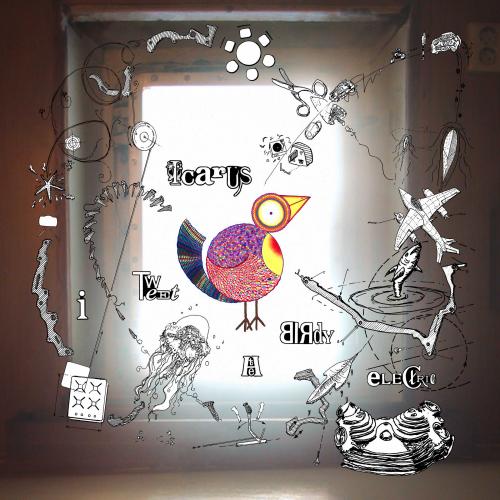 I Tweet The Birdy Electric
by
Icarus
Formats:
CD (BAY 36CD) Limited Edition Double Vinyl LP (1,250 copies) (BAY 36V) Digital (BAY 36E)
Release Date:
26 April 2004
With I Tweet The Birdy Electric, Icarus present a rarified vision of the acoustic instrument; the cause célèbre of the 20th century as the lost art of the 21st. In a society obsessing over the possibilities of the technocratic welfare state, it has become more common to find computers wired to duplicate the multiplicities of an instrumental language than real musical instruments or musicians. As the laptop cavorts with ever larger and more complicated methods of diffusing sound, our instrumental tradition can almost be seen receding into the stockpile of obsolete mechanics.
Icarus appear to have stumbled across a warehouse full of arcane bits and pieces; scores, records, old Wire and Viz magazines and instruments which are now out of tune, broken and almost lifeless. After listening to a few (scratched) records from the era, they have set about mechanically transfusing life into the sounds and instruments at hand. Seen in this light, Icarus's fifth album is something of a modern conjuror's trick.
Distilled from two years of live improvisations (which have thrilled and bemused audiences from Pau to Dundee, and secured Icarus a certain fame in the world of modern traveling minstrels), any logic that prevails within the music is at best eclectic. From the apocalyptic fugue of 'Ganglion' which starts the record, through the meandering sonata form of 'Three False Starts' and serialist approximation of 'Frogmatik' via the twists and turns of program music in the form of 'Antz Nez' and 'Birds Max', I Tweet The Birdy Electric conjures up the last vestiges of a pre-industrial culture, seemingly out of nowhere, and reconstructs the fragments.
Ollie Bown and Sam Britton released three albums before venturing out on their own in 2002 with the astonishing Misfits (released in North America as Six Soviet Misfits). With a sense of purpose and authority that elevates them way above their laptop-toting peers, I Tweet The Birdy Electric is the first fruit of a new relationship with The Leaf Label.
TRACKS
1. Ganglion
2. Essen
3. Three False Starts
4. Jokun's Civet
5. Frogmatik
6. Pots & Reeds
7. Gnog
8. Mutations
9. Birds Max
10. Tea Bell
11. Antz Nez
REVIEWS
BBC
The Milkfactory