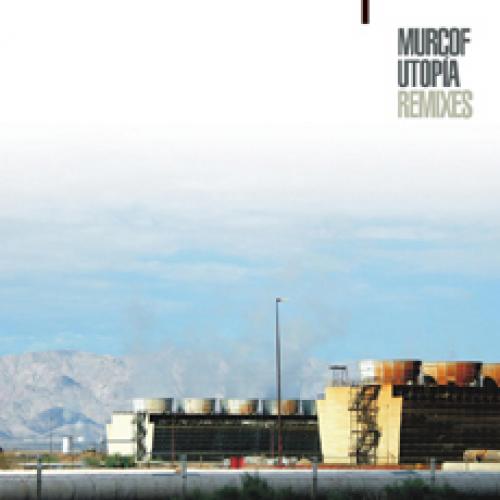 Utopía Remixes
by
Murcof
Formats:
12" (DOCK 40)
Release Date:
19 April 2004
Following the magnificent Ulysses EP released summer 2003, Murcof (aka Tijuana-based Fernando Corona) has two of his tracks remixed on a 12" single on The Leaf Label.
San Francisco resident Sutekh turns in an incredible techstep reworking of 'Memoria' (the original track was first released on Sutekh's Context Free Media imprint) that manages to be both radical and faithful to the original. The mix was previewed on a handful of one-sided test pressings before Christmas 2003, picking up plays from DJs like Lee Burridge, Tiefschwarz and Ivan Smagghe and has already hit the Top 10 in Update magazine's Zzub Chart, not to mention picking up Single Of The Issue in FACT.
The flipside features an epic reworking of 'Ulysses' by fellow Mexicali Fax (who shares the Static Discos label with Fernando, and also produces Murcof's delicious artwork).
2003's Ulysses 12" and the remixes on this single will be collected on a specially-priced CD, along with further remixes (by Jan Jelinek, Icarus, Deathprod and others) and exclusive Murcof tracks. Utopía will be released in late May 2004, with Murcof's second album proper (recorded in 5.1 surround sound and to be released on DVD as well as CD) currently scheduled for an autumn release. Fernando will tour Europe in the summer, and, following a move from Tijuana to Barcelona, will tour the world around the release of the second album.
Since the release of his groundbreaking debut album Martes, Corona has moved into film soundtracks, recently finishing work on Nicotina, the latest film from the producers of one of the biggest Mexican films of all time, Amores Perros. He has been commissioned to remix both Kronos Quartet and Miles Davis works; toured extensively in Europe, Japan and North America; and has been nominated for the prestigious Ars Electronica award and the Mexican film awards Diosas de Plata.
TRACKS
A1. Memoria - Sutekh's Trisagion Mix
B1. Ulysses - Fax Remix