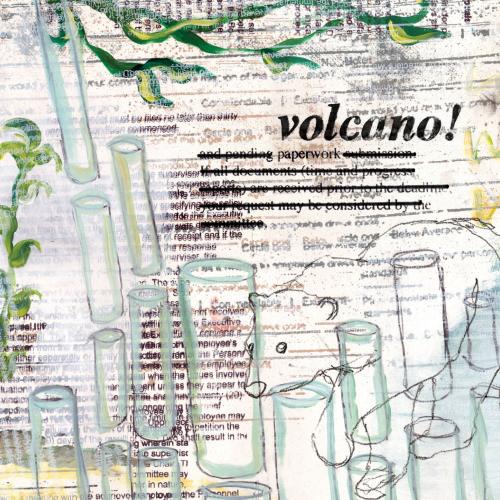 Paperwork
by
volcano!
Formats:
CD (BAY 63CD) Digital (BAY 63E)
Release Date:
22 September 2008
Arriving in 2005 with an exclamatory bang, sporting an electrifying live set and an audacious debut album in Beautiful Seizure (voted #2 album of 2006 by DiS readers), volcano! cast an eye over the parameters of rock and exponentially expanded them into hitherto unknown regions. After a two-year hiatus, the Chicago trio now stride onwards with a new bounce in their step, and a new cohesive flow to their songs.
"We wanted to be more economical and concise than before, and more importantly to elicit a more intuitive body reaction," says Aaron With (guitar, vocals) of the songs on Paperwork. "We wrote stuff that we thought would be the most fun to play, and the most fun to listen to, still trying to maintain a balance of melody and noise."
Accompanied by former high school classmate Sam Scranton (drums, percussion), and college bandmate Mark Cartwright (electronics, bass), the band was initially drawn together by a shared love of music's outer edges: free-jazz, electronic music, experimental rock. Together, they combine vocals, guitars and drums that seethe with furious passion one moment; a playful wink the next. For volcano!, politics is always personal, but they avoid preachiness with a sardonic sense of humour (if you'd like transcripts of the new album's lyrics please let us know).
Everything about Paperwork is leaner and more considered than before, often beginning with simple pop structures and tearing them apart. The ragged, feverish dissonance and bright spaciousness of Aaron's guitar has much in common with peers like Deerhoof or Dirty Projectors, but this time, more attention is focused on the beats and rhythms.
"We made an effort to explore the crazy combinations of rhythm that can be found in more basic time signatures," says Scranton. "Beats that you can feel and bounce to, but also land in unexpected places."
Lead-off single ''Africa Just Wants To Have Fun'' displays much of this febrile energy within a razor-sharp satire of certain rock stars who purport to save the world with dubious, self-serving rhetoric. With's response is refreshingly honest: "I admit it I don't know what to do / But I know what not to do".
With's vocals are more deliberate, more soulful than before, with echoes of classic Stevie Wonder surfacing on the self-deprecating 'Slow Jam' ("I'm a guitar hero with a big ego and a bipolar libido / But I come through in the sack, most of the time"). 'Fairy Tale' describes With's disillusionment with his own experience of the 'non-profit' sector, while 'Sweet Tooth' tackles his own conscience on the ambiguous issue of consumerism and promoting social/environmental responsibility.
The dense layering of sounds and textures that is integral to volcano! now informs the thematic undertones of the Paperwork - workplace issues, loss of idealism, and a coming of age story - most explicitly in the song 'Performance Evaluation Shuffle' - and is mirrored by the album artwork, layer upon layer of dreary policy documents buried under scribbled drawings.
"There's this idea of layered texts and palimpsests. Taking something and writing your own ideas over and on top of it, creating a new object. That's sort of an idea of how to survive in the workplace – drawing doodles on office documents and meeting agendas, and also reinterpreting and working around the rules and regs that dictate your behaviour – but also relates to the music; taking fairly complex musical structures and layering them to give a satisfyingly rich end result."