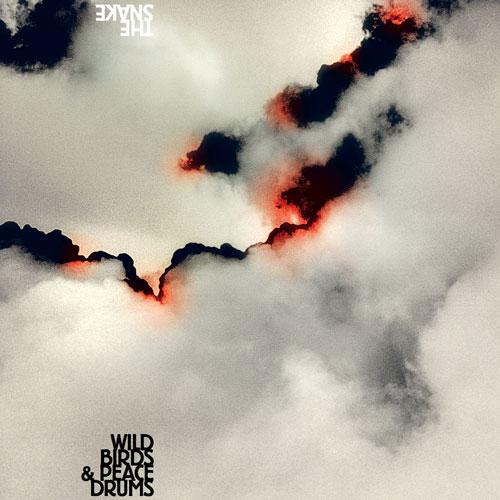 The Snake
by
Wildbirds & Peacedrums
Formats:
CD (first 3000 copies on gold coloured discs) (BAY 65CD) Limited Edition Vinyl LP (first 1000 copies on gold vinyl) (BAY 65V) Digital (BAY 65E)
Release Date:
13 April 2009
Sweden's extraordinary drums and vocals duo Wildbirds & Peacedrums return with The Snake, the fierce follow up to their intoxicating debut, Heartcore ("a heady brew of pagan blues, spiritual pop and ecstatic soul music" Top 10 Album Of The Month, Observer Music Monthly).
Acclaimed as one of Time Out's Top 10 Albums Of The Year (among other accolades including an 8.0 from Pitchfork), Heartcore introduced vocalist Mariam Wallentin and her percussionist husband Andreas Werliin to the world outside their lively Gothenburg scene and wound up as one of 2008's hidden treasures. The pair has since toured extensively, thriving on international festival stages, equally at home alongside pop sensations like fellow Swede Lykke Li as free-improv outfit The Thing.
The liberated abandon of Wildbirds & Peacedrums' primitive soul music strikes an immediate and invigorating chord, as anyone who has seen them over the past year will attest. With The Snake, they deliver an adrenalin shot of passion straight to the heart, with songs that draw on anger and frustration as well as the life-affirming ardour that propels their music. "This record is not the typical second album. You know – filled with a lot of doubts," explains Mariam with characteristic self-assurance. "We only work from intuition, on instinct. We're not looking for perfection in music, rather for life and feeling. We like to be more explosive!"
Improbable recipients of the prestigious Jazz In Sweden 2008 prize, Mariam and Andreas used their winnings to record at the Soundtrack Of Our Lives-owned Svenska Grammofonstudion in Gothenburg. Vocals and drums were brilliantly recorded live to tape, and the spontaneity of the resulting album captures the intense bond between the couple, while expanding their sonic palette to include steel drum, piano, xylophone, marimba, Rhodes and more. "We tried to deconstruct the roles we have as a drummer/singer, so Mariam plays the same number of instruments as me," Andreas explains. "We both have the zodiac sign of the Lion, you know – so we both need to feel strong and feel that we are in charge!"
It's this psychic muscle that drives The Snake. "We break loose with the new instruments as we do with everything else," Mariam says. "The melodies are there from the first second, but because we are curious people we search for different sounds and rhythms, without making the music too messy and forced."
Mariam's uninhibited vocal expressions are matched by the kinetic sparks of Andreas' percussion. 'Chain Of Steel' has a racing rhythm that flares into yelps of vocal anguish, while the album's first single 'There Is No Light' channels the primeval spirit of rock'n'roll (and showcases Andreas' breathtaking drumming style). "Like flashes before your eyes," Mariam suggests.
The energy loop between Mariam and Andreas flows powerfully: "You need to dive into it to feel it," she says. "We have always had an obsession with creating new music, but also timeless music written from basic needs." How thrilling to hear music spoken of as if it is as crucial to life as air and water!
The Snake is balanced by slower, more resonant pieces such as the slowly unfurling opener 'Island' and the eastern-tinged 'So Soft So Pink'. The album culminates in 'My Heart', a wonderfully uplifting seven minutes that blossom into a full-blown gospel anthem, and feature Mariam's haunting, addictive refrain: "I'm lost without your rhythm". Which may appear to be directed toward her tempo-keeping paramour, but in fact "It's me singing to my own heart," she says. "About the short amount of time we have, the longing for putting a mark in this world, to keep on existing forever."
Like everything to do with this remarkable and strangely humbling band, they constantly remind you of the absolute burning vitality of every waking moment. Dive in.
Reviews
"beautifully imaginative... magnificent" Pitchfork
"There are moments of songwriting brilliance here" **** Metro
"A wild trip indeed" **** The Independent
"Like Bat for Lashes at her wildest" **** Q
"Pretty exceptional" **** Mojo
"One of the most attention grabbing albums of the year" ****1/2 The Sun
"On their way to becoming the White Stripes in reverse" **** Guardian
"The pair eschew the common conventions of pop craft to strip their music back to spine-tinglingly bare essentials" Music Week
'There Is No Light' is used in Apple Music's History Of Sound advert campaign.