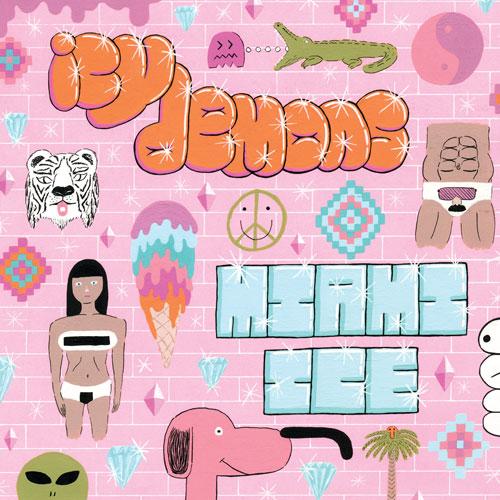 Miami Ice
by
Icy Demons
Formats:
CD (BAY 71CD) Digital (BAY 71E)
Release Date:
27 April 2009
Miami Ice is the highly melodic, playfully energetic third album by Chicago's Icy Demons, and their first for The Leaf Label. The band's altered pop music draws on a vast musical vocabulary, sometimes within a single song, transporting the listener to exotic locations with songs of dreams and endurance, alien paranoia and community, time travel and the western frontier. Using an odd assortment of vintage keyboards and ethnic percussion, Icy Demons evoke a past that actually might prove to be the future.
The group revolves around Chicago lynchpin Griffin Rodriguez (aka Blue Hawaii), his Shape Shoppe studio and Obey Your Brain label. Born on the south side of the city in 1977 to a Cuban/Irish father and African American mother, he had an eclectic and party-filled upbringing, and showed early musical promise, playing in jazz, punk rock and hip hop bands while at high school, as well as a city youth orchestra. Miami Ice draws on myriad influences: krautrock, electro, afro-funk, electric jazz, Canterbury-era psychedelia and dayglo pop, but it never feels like a trawl through a hipster's record collection. 'Miami Ice' cartwheels and explodes in a riot of rainbow colours, while '1850' is a mini-symphony of progressive pop. 'Centurion' is a match for LCD Soundsystem in its homage to Kraftwerk.
"Somebody said that I'm unraveling modern music and perhaps to a degree that's true," says Rodriguez, "Trying to find the roots and discover the archetypes. If you study music throughout time then it becomes a really interesting record of the way a society thinks and acts. I am just trying to reflect that in my own experience. Also, my dad really got me into quantum mechanics and eastern philosophy when I was young, and there is definitely the idea of mysticism and of the world being alive in this record. Music means a lot to me."
Though it was recorded in the course of a very busy year at the studio, Miami Ice has an organic, intuitive feel that results from Rodriguez's almost supernatural understanding of the dynamics of popular music in its broadest sense, borne of 11 years of working in the same studio and a willingness to collaborate openly. "I enjoy playing with very powerful musicians with limitless talent waiting to be unlocked," he says. "Most of all I want it to occur very naturally."
This album features Rodriguez on bass and vocals, alongside co-founder Chris Powell (aka Pow Pow, of Man Man, Need New Body) on drums, and guest musicians Jeff Parker (Tortoise) on guitar, Josh Abrams (Prefuse 73, Sam Prekop) on upright bass, Chicago improviser Tomeka Reid on cello and Russell Higbee (Man Man) on guitar.
Icy Demons have built a considerable live rep in the States, playing the Pitchfork and The Wire's Adventures In Modern Music festivals in 2008, as well as shows with Arcade Fire, Dirty Projectors, Slint, of Montreal, !!! and Yeasayer.
"We have a lot of fun with the shows," says Rodriguez. "I try my hardest to have people loosen up and have a good time. I used to play all the songs very reserved - to try and make them sound like the recordings. But now we just blow everything out and try to make it really energetic!"
A founder member of cult favourites Bablicon (along with labelmate Jeremy Barnes of A Hawk And A Hacksaw) and Need New Body (with Chris Powell), Rodriguez certainly keeps himself busy. As well as the touring, he records, engineers and masters music at the Shape Shoppe (recent clients have included Beirut, Akron/Family, Josephine Foster, Pit Er Pat and volcano!), and in 2007 he and Powell decided to take the logical step and set up their own Obey Your Brain label (http://obeyyourbrain.com), which originally released Miami Ice in North America. The band is already hard at work on the follow-up to Miami Ice, which is pencilled for release this autumn.
And what does Rodriguez want for his efforts? "I want to make really good music. I've been working on it for a while."
Reviews
'Chock full of booty-shaking yet thought-provoking jams" ***** Time Out Chicago
"One hell of a unique concoction" Pitchfork
"Like a Nintendo- generation Charles Mingus" The Boston Globe
"It's a brilliant, genre-blending tour-de-force, and one that might just make you reassess the eclecticism of other so-called US innovators." Drowned in Sound
"Icy Demons have hit on a goldmine of sound... radiates fun like UV rays... funky and soulful" Plan B
"Icy Demons are one of the most gratifying, intelligent acts in modern music" **** Tiny Mix Tapes