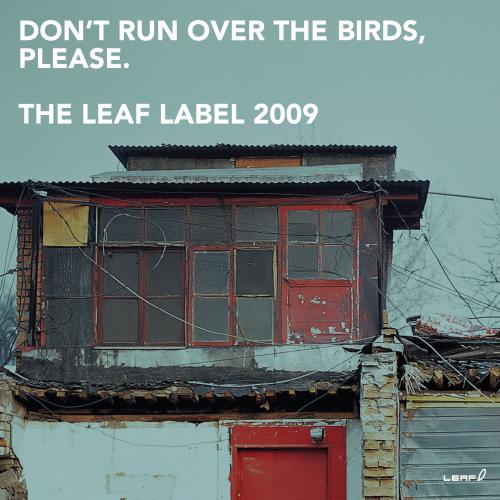 Don't Run Over The Birds, Please.
by
Various Artists
Formats:
Digital sampler (BIRDS 1)
Release Date:
20 July 2009
In March 2009 we released a free Leaf download sampler called Don't Run Over The Birds, Please. in the form of a Dropcard. The compilation includes tracks by almost all of our current artists including an exclusive track by Murcof.
If you weren't lucky enough to get hold of one of the Dropcards, we have now made the compilation available as a budget-priced download through a few hand-picked download outlets, including iTunes, Bleep, Boomkat, eMusic and Other Music, as well as for £1.99 through our own shop.
1. Icy Demons - 1850
Icy Demons revolve around Griffin Rodriguez, mainstay of the Chicago music scene. '1850' is taken from their freewheeling third album, Miami Ice, which was released in April 2009.
This track is not available in North America or Japan as part of this compilation

2. Efterklang & The Danish National Chamber Orchestra - Frida Found A Friend (live)
In September 2008, Efterklang performed a fully orchestrated version of their 2007 album Parades in their hometown of Copenhagen, Denmark. The shows were recorded and filmed, and we will be releasing a CD/DVD package, entitled Performing Parades'' of the concert this autumn. Here's an early chance to hear one of the songs.
3. A Hawk And A Hacksaw - Kertész
'Kertész' is taken from A Hawk And A Hacksaw's fourth long player, Délivrance, out in May. From Albuquerque, New Mexico, Jeremy Barnes and Heather Trost brilliantly meld Eastern European and North American folk traditions. They are touring with a new band throughout 2009.
4. Nancy Elizabeth - Tow The Line
An early version of a brand new song, which will be included on Nancy's second album, to be released in October 2009. Wrought Iron promises to move the Wigan-based songwriter into darker, more deliciously melancholy territory.
5. Murcof - Excerpt #1
This piece was composed for Fernando Corona's winter 2008 UK tour, which featured live musicians for the first time. It's unlikely this one will make it to the finished Océano album, scheduled for release in 2010, so for now at least, this is an exclusive.
6. Wildbirds & Peacedrums - There Is No Light
'There Is No Light' is taken from the extraordinary second album by Swedish husband and wife duo Wildbirds & Peacedrums, entitled The Snake. The pair have been touring extensively this year, and we highly recommend you get to see their stripped down, ecstatic live show. This track is only available as part of this compilation in the UK, Ireland, Benelux, France, Italy and Australia.
7. Vladislav Delay - Melankolia (edit)
Finnish producer Sasu Ripatti is best known for his intricately programmed electronic sounds, under the artist names Luomo, Uusitalo, and Vladislav Delay. On his first album as Delay for Leaf, Tummaa Ripatti makes a move into more acoustic sounds, including, on this track, a piano motif by Craig Armstrong. The album is released in late August 2009.
8. Essie Jain - I Remember It Just Like This
Born in London, but resident in New York, Essie has released two albums on Leaf to date. One of a pair bonus tracks added to our version of Essie's expansive second album, The Inbetween.
9. volcano! - So Many Lemons
'So Many Lemons' was released as a digital single in April 2009. With a strange and wonderful video to match, it takes the band into new and unexplored melodic territory. volcano! released their second album, Paperwork, in 2008.
TRACKS
1. Icy Demons - 1850
2. Efterklang & The Danish National Chamber Orchestra - Frida Found A Friend (live)
3. A Hawk And A Hacksaw - Kertész
4. Nancy Elizabeth - Tow The Line
5. Murcof - Excerpt #1
6. Wildbirds & Peacedrums - There Is No Light
7. Vladislav Delay - Melankolia (edit)
8. Essie Jain - I Remember It Just Like This
9. volcano! - So Many Lemons
OTHER
iTunes UK
iTunes US
Bleep
Boomkat
eMusic
Other Music