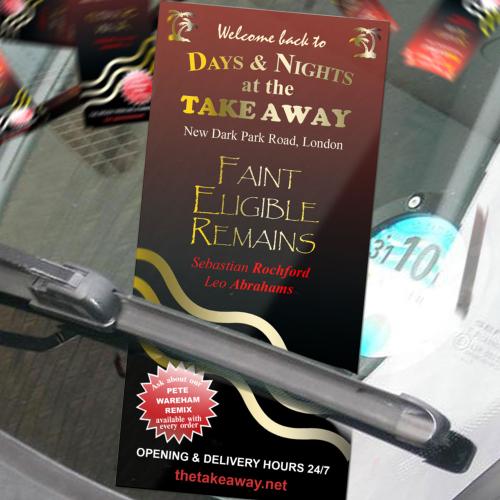 Sebastian Rochford & Leo Abrahams - Faint Eligible Remains
by
Days And Nights At The Takeaway
Formats:
Digital (DANATT 2)
Release Date:
24 February 2012
The second release in Sebastian Rochford's monthly singles club, Days And Nights At The Takeaway, is a collaboration between the Polar Bear bandleader/drummer and multi-talented London-based composer/producer/guitarist Leo Abrahams.
"We started this track by using a machine leo took round called the luminist garden," Seb explains, "It's like a little garden made of wires that reacts when you run your fingers through it or play some sound on it"
The sounds generated by this intuitive, looping soundboard device were then supplemented by piano (played by both musicians) and guitar.
As with all the singles in the series, the piece is backed with a remix, this time by fellow Polar Bear mainstay and Acoustic Ladyland-founder Pete Wareham.
Days And Nights At The Takeaway will run throughout 2012, with all tracks recorded in Seb's studio in a former takeaway in London (hence the project name). The music will be extremely varied, and there are some surprises in store, as you might expect from this prolific musician who has worked with artists as diverse as Brian Eno & David Byrne, Herbie Hancock, Pete Doherty, Andy Sheppard and Adele.
The first single in The Takeaway series, released at the end of January, was a collaboration with LA poet and singer Gina Loring and British Indian vocalist Ranjana Ghatak.