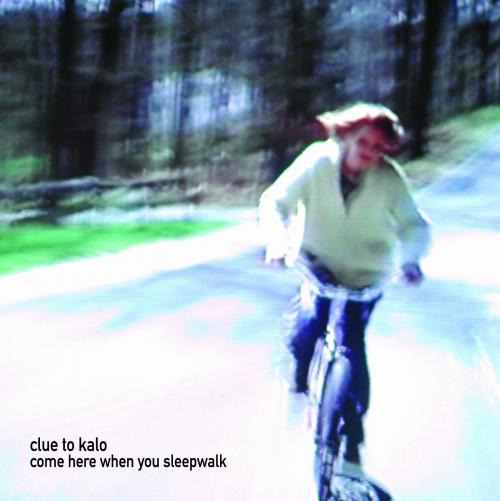 Come Here When You Sleepwalk
by
Clue To Kalo
Formats:
CD (BAY 30CD) Limited Edition Double Vinyl LP (650 copies) (BAY 30V) Digital (BAY 30E)
Release Date:
3 March 2003
Come Here When You Sleepwalk is the debut album by Clue To Kalo, the charmed work of 23-year-old Adelaide native Mark Mitchell. With layer upon layer of cascading melody, the album is a cycle of slow-burning, wide-eyed introspection, and about as human an electronic album as you're ever likely to hear. Above all, these are songs, not just collections of noises. It's a bit of a grower, we feel.
Recalling the dusty electronic melodies of early Badly Drawn Boy and Lou Barlow's Folk Implosion, or the glorious Dntel album, Mitchell brings passion and emotion to the rhythms and bleeps. Come Here When You Sleepwalk has a sun-drenched, expansive backwater feel slowly unfolding over ten dreamy tunes, Mitchell's classic singer-songwriter voice evoking a sense of open-ended melancholic wonder.
It's an album that doesn't give up its delights immediately, but if you want an instant hit we recommend you head for 'This Is Over By Inches' or 'We'll Live Free (In NYC)', or the epic centrepiece, 'Still We Felt Bulletproof'; tracks that twist and turn and build and build - by the end of a song you'll barely recognise it from what you were hearing when it started. Heck, we love it all.
Mitchell released an album (Love Like Life In Miniature) under the name Super Science on the Australian Surgery label in 2000, but this is the first time his work has found its way onto record shop shelves outside of Oz - through Mush Records in North America and The Leaf Label in Europe.
Rather than adhere to the laptop tradition of man and machine live sets, the Clue To Kalo stage show is a three-piece band featuring guitars, vocals drums, turntables, harmonica.
TRACKS
1. The First Song Of The Rest of Your Life
2. Empty Save The Oxygen
3. This Is Over By Inches
4. Within Reach Of My Own Arms
5. We'll Live Free (In NYC)
6. This Dies Over Distance
7. Still We Felt Bulletproof
8. I Think We Can Kinetic
9. Your Heart Is Your Compass
10. Do You Know That Love Can End?
REVIEWS
Metacritic
All Music Guide
BBC