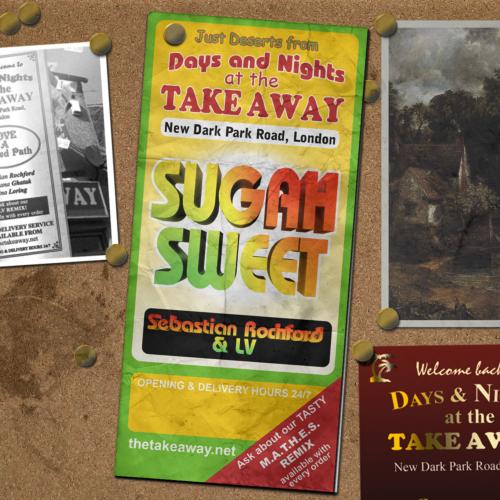 Sebastian Rochford & LV - Sugah Sweet
by
Days And Nights At The Takeaway
Formats:
Digital (DANATT 3)
Release Date:
30 March 2012
The third instalment of Sebastian Rochford's 2012 online singles club, Days And Nights At The Takeaway, this time, sees Seb collaborate with shadowy dubstep types LV (who also remixed the first release in the series) to produce a bubbling hybrid of electronics, cut-up vocals and live drums. Like all the other tracks in the series, 'Sugah Sweet' was recorded in Seb's studio in a former takeaway in London.
"It was really amazing watching Si and Wil play together," says Seb, "They're so in tune with each other, it's beautiful to see. Doing stuff with LV suddenly made me realise how much inspiration I'm getting doing these tracks with everyone, and how getting to know people by making music with them means that your instinct and trust become the most important parts of the creation."
The multi-talented Micachu has remixed March's single, in typically unclassifiable style, under her M.A.T.H.E.S. moniker.
The last single in the series saw Rochford collaborate with composer/producer/guitarist Leo Abrahams, with Gina Loring and Ranjana Ghatak joining forces with Seb on the first release.
All the singles and remixes can be streamed on the project's Bandcamp page.