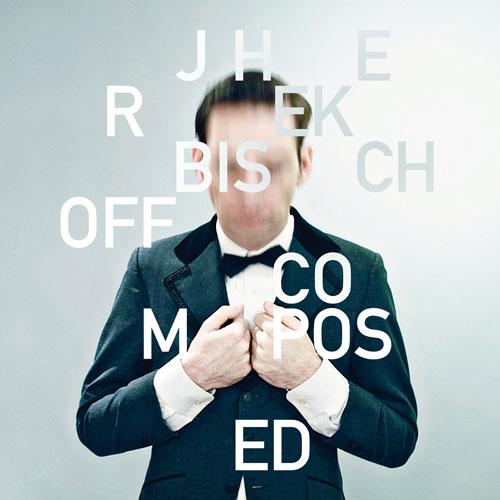 Composed
by
Jherek Bischoff
Formats:
CD (BAY 83CD) Limited Edition vinyl LP with album CD (BAY 83V) Digital (BAY 83E)
Release Date:
28 May 2012
The album is available in exclusive bundles with Composed T-shirts, here.
Composed is also available as an instrumental version, Scores, with or without the original score transcripts, here.
In his 30-odd years, Seattle-based Jherek Bischoff has performed in numerous musical configurations, including Parenthetical Girls, Xiu Xiu, Degenerate Art Ensemble, The Dead Science, Amanda Palmer and The Wordless Music Orchestra. Described as a "pop polymath" by The New York Times, he's an instinctive collaborator, trusting himself to be his own best teacher. Indeed, all this music-making has largely been self-taught.
This last may be the most remarkable, especially in the context of his new album Composed. A meticulously arranged, multi-tracked orchestral pop album, it features a host of guests, many of whom appeared at the sold-out Ecstatic Music Festival performance in New York that launched the project in February (you can find a recording of the show here).
David Byrne collaborates on 'Eyes', as sumptuous a slice of meta-pop as anything he's produced in years, while Parenthetical Girls' Zac Pennington and French singer/actor Soko duet on the brilliant 'Young And Lovely'. Brazilian Tropicalismo legend Caetano Veloso guests on 'The Secret Of The Machines' singing lyrics adapted from a Rudyard Kipling poem. Other vocalists include Carla Bozulich (Evangelista, The Geraldine Fibbers), Craig Wedren (Shudder To Think), Mirah and Dawn McCarthy (Faun Fables). Deerhoof's Greg Saunier and Wilco's Nels Cline sprinkle some additional instrumental magic over two of the album's nine songs.
Working in such esteemed company, an even more pleasant surprise is that Jherek manages to make the album his own, without ever falling into the trap of self-indulgence that often besets multi-vocalist projects of this kind. That the album proves to be a consistently rewarding and uplifting body of work is testament to the clarity of his vision.
The genesis of this singular project was informed by Jherek's history of playing in DIY bands, a fervent desire to make great pop music and a love affair with the potential of the orchestra. His approach was illuminated by a desire to shake up the business-as-usual routine of being an independent rock musician.
"I realised a few years ago that being in several serious touring bands at the same time could be really frustrating, because I tend to work on music at least eight hours a day at home, and on tour you only get to make music for an hour a day," says Jherek of his experience. "I realised that by producing records, doing soundtracks and collaborating on music for dance, I could be creatively involved with a ton of exciting music, and let it have its own legs without having to always be on tour."
As an orchestral recording Composed is pretty much unique. Do-it-yourself in the purest sense, Jherek first composed the album on a ukulele. Next he arranged, produced and engineered the backing tracks, resolving to achieve an orchestral sound without the orchestral cost by recording the music one instrument at a time using a single microphone and a laptop.
"I recorded each individual musician of the 'orchestra' in their own living rooms, and then I layered each instrument - sometimes one violinist playing one part twenty times - until it was the size of a huge orchestra. I spent the summer riding my bike from house to house recording each musician. I finished the album by taking a road trip to record all the singers in person, except for Caetano Veloso and David Byrne, who recorded their own parts at home."
The result of this extraordinary jigsaw puzzle is Composed. It took years. We hope you'll agree it was worth it.
"Multi-instrumentalist, composer and producer Jherek Bischoff is the missing link between the sombre undertones of Ennio Morricone and the unpredictability of John Cale" NME
TRACKS
1. Introduction (Defeat)
2. Eyes (Jherek Bischoff & David Byrne)
3. The Secret Of The Machines (with Caetano Veloso & Greg Saunier)
4. The Nest (with Mirah Zeitlyn & Paris Hurley)
5. Blossom (Jherek Bischoff with Nels Cline)
6. Your Ghost (with Craig Wedren)
7. Counting (with Carla Bozulich)
8. Young And Lovely (with Zac Pennington & Soko)
9. Insomnia, Death And The Sea (with Dawn McCarthy)
REVIEWS
The Guardian review
OTHER
Composed video trailer
'Young & Lovely' video