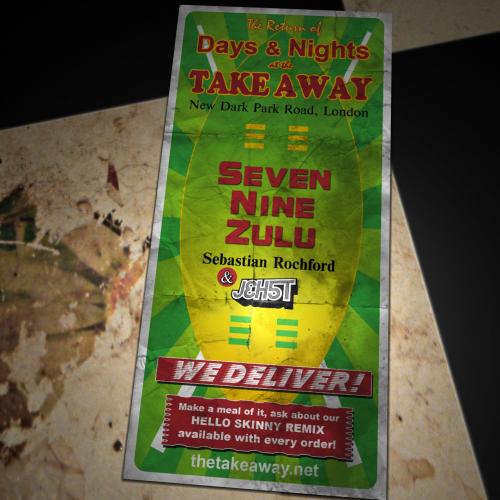 Sebastian Rochford & Jehst - Seven Nine Zulu
by
Days And Nights At The Takeaway
Formats:
Digital (DANATT 4)
Release Date:
27 April 2012
Sebastian Rochford's digital singles club, Days And Nights At The Takeaway, rolls into its fourth month with 'Seven Nine Zulu', a collaboration with UK rap heavyweight Jehst.
"Jehst is one of my favourite MCs - his lyrics are so imaginative, honest, fearless, playful and evocative, and delivered so you can hear every word," says Seb. "The idea of this tune was to do something with him that was more primal and with no loops in it. I wanted all the elements to be live. I improvised the backing track imagining I was playing a song and thinking of the drums as the melody."
Seb sent the track to Jehst, who finished the vocals in Seb's studio a week later.
"When I heard the beat it just put me in mind of classic B-Boy breaks, that ESG, Wildstyle soundtrack type of sound. Late '70s Bronx shit," explains Jehst. "That definitely influenced some of the references in the rhymes and the title in particular which is a nod to the Zulu Nation and growing up on how that New York hip hop sound and culture developed, through the Cold Chillin' years and all that. In my mind I could just hear that Kane, Rakim type of composed, serious flow, kinda how Black Thought from The Roots rhymes."
Tom Skinner came on board to remix the original track under his Hello Skinny guise. "He's one of my favourite musicians and drummers ever," says Seb. "Listening to anything he does always inspires and humbles me as a drummer."
The Takeaway series has thus far seen Rochford collaborate with Leo Abrahams, Gina Loring, Ranjana Ghatak, LV, Pete Wareham, and Micachu, with plenty more to come. Like the other tracks in the series, 'Seven Nine Zulu' was recorded in Seb's studio in a former takeaway in London.
All the singles and remixes can be streamed on the project's Bandcamp page.