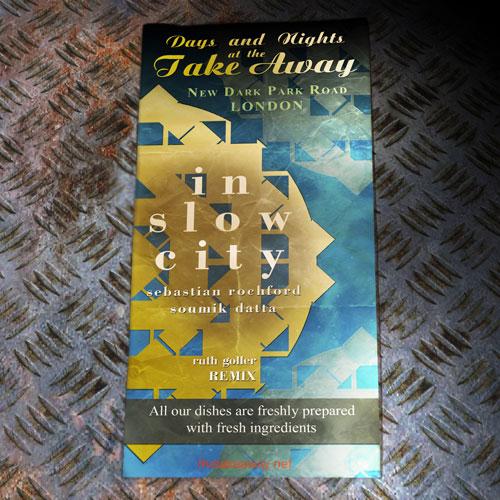 Sebastian Rochford & Soumik Datta - In Slow City
by
Days And Nights At The Takeaway
Formats:
Digital (DANATT 6)
Release Date:
29 June 2012
The halfway milestone in Sebastian Rochford's year-long Days And Nights At The Takeaway project is reached with this epic, slowly unravelling piece recorded with acclaimed British Bengali sarod player Soumik Datta (the sarod is a smaller, more portable version of the sitar).
Like Seb, Datta has worked with a wildly diverse range of artists (Beyoncé, Talvin Singh and Bill Bailey look good on the CV) and has worked on a number of film scores including Brick Lane and West Is West.
"'In Slow City' is based on a raag called 'Nat Bhairav'," says Seb. "For this one I wanted to try something that was more of a live performance. I wanted to keep the piece close to how we played it, in the way it slowly grew, which is why it's around fifteen minutes long."
'In Slow City' has also been reworked by Seb's Acoustic Ladyland bandmate, bassist Ruth Goller, who has transformed the original into a charmingly peculiar Syd Barrett-like song.
"I had a feeling Ruth would make something I would never ever expect," says Seb, "And I absolutely adore what she did."
The Takeaway series has so far seen Rochford collaborate with Leo Abrahams, Jehst, Tom Skinner, Gina Loring, Ranjana Ghatak, LV, Pete Wareham, Alice Grant, Simon Bookish and Micachu, with all the recordings being made at his London studio in a disused Takeaway.
Every single and remix can be streamed on the project's Bandcamp page.