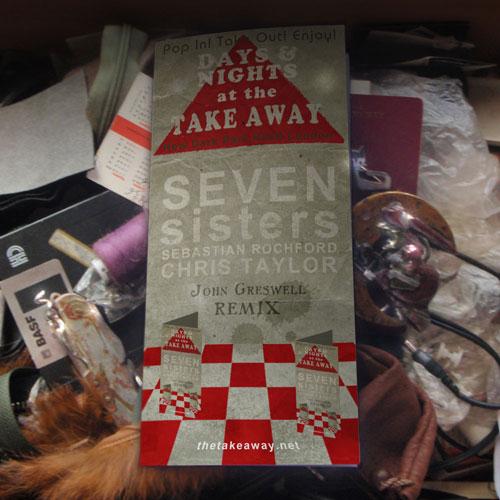 Sebastian Rochford & Chris Taylor – Seven Sisters
by
Days And Nights At The Takeaway
Formats:
Digital (DANATT 8)
Release Date:
31 August 2012
Sebastian Rochford reunites with ex-Menlo Park bandmate Chris Taylor for August's edition of the Days And Nights At The Takeaway singles club. The group, who released just one album at the turn of the millennium, were described at the time "quite brilliant" (Time Out) and "very, very odd" (The Guardian). Now running a music production company named after their shared band, Taylor contributes vocals and piano to the degenerate 'Seven Sisters'.
"Seb and I have in some sense grown up in music together," Chris remarks. "We found each other in the dingy upstairs of an East End bar and formed what would become Menlo Park together. We worked very closely for the next eight years. When I say closely, I once awoke on some low budget tour to find myself being lovingly embraced by Seb in a fashion best described, I suppose, as spooning. I debated whether to wake him up to let him know I wasn't the girlfriend he was muttering about but I thought against it and decided that, if you can't spoon with your drummer, what kind of band are you?
"It was this bond, both musical and physical, that I believe has guided Seb and me back to each other.
When I arrived on the morning of the recording at Seb's studio having done my "signature style" of absolutely no preparation for the session and having not worked in the capacity of a singer in a band for several years.
"Seb's production, writing and recording style is very fluid and driven by capturing the subtle energy and flavours of a performance rather than technical proficiency. A style most suited to my signature skill set – 'technically imperfect'.
"The day turned into night and back into day. I went to the all night booze shop three times (mostly for myself) and finally we birthed the evil sexy little bastard that is 'Seven Sisters' in all its dirty, messy, unkempt, mean-spirited but loveable, badass, genre non-specific pomp and splendour."
So now you know. This month's remix conveniently comes from another former Menlo Park member (and Taylor's current business partner) John Greswell, ramping up the strangeness another notch or two.
The Takeaway series has so far seen Rochford working with Jason Moran, Soumik Datta, Leo Abrahams, Jehst, Tom Skinner, Gina Loring, Ranjana Ghatak, LV, Micachu, Alice Grant, Simon Bookish and Acoustic Ladyland bandmates Pete Wareham and Ruth Goller, with all the recordings being made at his studio in a disused London Takeaway. Every single and remix can be streamed on the project's Bandcamp page.
TRACKS
1. Seven Sisters
2. Seven Sisters (John Greswell remix)
OTHER
The Takeaway