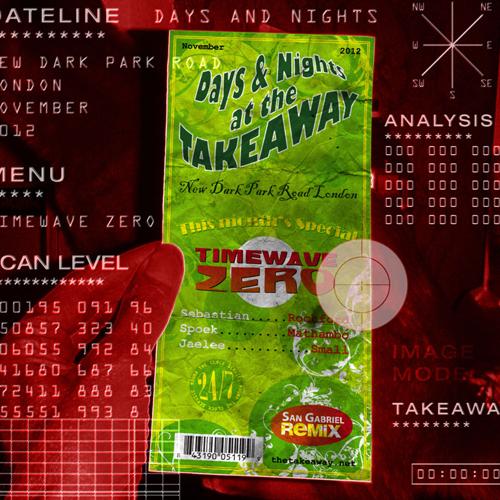 Sebastian Rochford, Spoek Mathambo & Jaelee Small - Time Wave Zero
by
Days And Nights At The Takeaway
Formats:
Digital (DANATT 11)
Release Date:
30 November 2012
The penultimate release in Sebastian Rochford's Days And Nights At The Takeaway series is upon us, and this time he's recruited acclaimed South African singer and producer Spoek Mathambo and London-based vocalist Jaelee Small. There's no doubt it's one of the best yet, taking the Takeaway off on yet another exhilarating tangent.
Initially Seb approached Jaelee with a brief to "improvise lots of noises that I could play with, also in a percussive way," but then his plans changed dramatically.
"In September I had an amazing experience on the Africa Express train. Ninety musicians from Africa, America and Europe travelled around the country doing concerts and pop up gigs along the way. There was a carriage on the train where we could all jam and work on music we would then play in the concerts. I met Nthato [Spoek's real name] on the train and it felt like we really connected. I loved playing with him so I asked if he'd like to do a Takeaway single with me. I played him the track I'd made with Jaelee and he asked me to send it to him. He recorded all the vocals in South Africa and I put the track together back in the studio in London, getting his thoughts along the way."
Spoek's recollections are similarly positive: "Seb is one of my favourite musicians I've had the pleasure to perform with, rich with intuition and passion. When he told me he also made hip-hop beats I was quite surprised and intrigued - curious to know how he applied his adventurous spirit to a form that has become staid and pretty redundant. I'm excited by the outcome. I think his sense of rhythm pushed me as an MC - pushed me far enough to dream of not being one, but instead as another instrument riding Seb's magic carpet of funk."
Remixer San Gabriel is Los Angeles psychonaut Butchy Fuego (ex-Pit er Pat member who has also worked with Boredoms, M.I.A. and Neutral Milk Hotel). Here he delivers a characteristically dayglo remix of the track that relocates it firmly on the dancefloor.
You can stream and purchase all the recordings (made in his London studio in a disused takeaway) on the project's Bandcamp page.