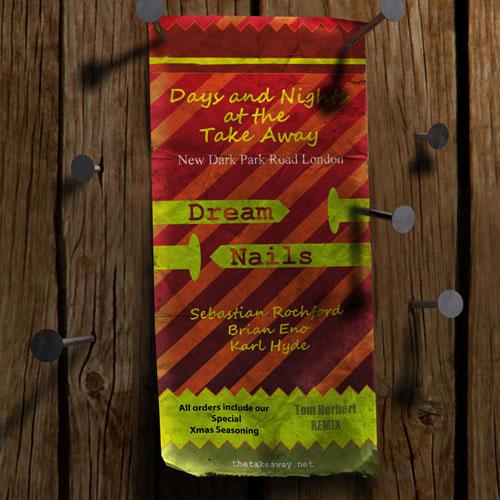 Sebastian Rochford & Brian Eno - Dream Nails
by
Days And Nights At The Takeaway
Formats:
Digital (DANATT 12)
Release Date:
28 December 2012
Sebastian Rochford draws his year-long Days And Nights At The Takeaway singles club to a close with this remarkable release, bringing together three of the UK's most recognisable and influential musicians. Not only that, but 'Dream Nails' is the first song in the series that Seb himself sings on.
Seb has worked with Brian Eno before (performing on his 2008 collaboration with David Byrne, Everything That Happens Will Happen Today), but Underworld's Karl Hyde is new to Seb's world, walking into the drummer's tiny London studio for an unexpected guest appearance last month…
"The song started as an improvisation guided by Brian," says Seb. "Seeing Brian playing the bass and keyboard in this little space and having to press the record button on my computer himself made me feel first embarrassed, but also amazed at his humbleness. For me, this kind of openness is part of what makes him such a continuously inspired creator."
"I loved having Karl play on the track too, he plays so beautifully and sensitively. I didn't even know he played guitar! To have both these incredible musicians give their time to make music with me in my place was really very special for me."
This month, Seb's Polar Bear bandmate in Tom Herbert provides a sterling remix. Given that Tom is also a member of Mercury prize nominees The Invisible, this should come as no surprise.
You can stream and purchase all the recordings on the project's Bandcamp page.