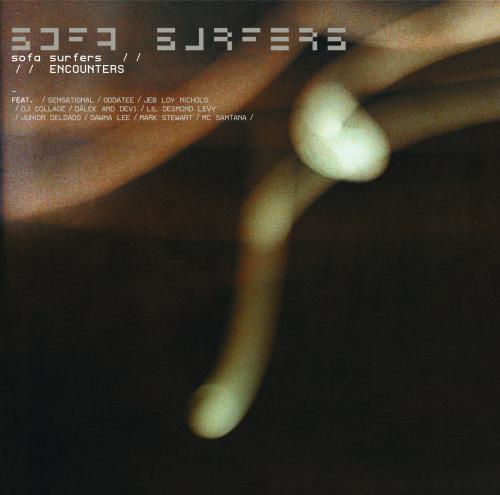 Encounters
by
Sofa Surfers
Formats:
CD (BAY 28CD)
Release Date:
30 September 2002
Even casual observers will note that Vienna's Sofa Surfers have outgrown their name, their home city's reputation for lounging downtempo beats and indeed the entire dance genre's hedonistic bent. Signed to Klein Records and released through Virgin in Europe, the band are an awesome live outfit ('rarely do you see such willful soundclashing executed with such raw panache' NME) and command critical acclaim across the spectrum of rock, electronic and dub press.
So naturally, we here at Leaf HQ wanted a piece of the Surfers' action for ourselves. Why? Because their third album Encounters is wicked, that's why. A politically-astute, dancehall-savvy, rhythmic body-blow, it doesn't flinch on the conscious lyrics, delivered by a stellar cast of guest MCs and vocalists from across geographical as well as musical divides. Ideas and basic concepts were sent out to vocalists who contributed their own lyrics. Among them are Sensational (former member of the Jungle Brothers, now signed to Mike Patton's Ipacec label); Dälek (New Jersey hiphop eccentric with releases on Gern Blandstein and Matador, also now signed to Ipecac); UK reggae chanteuse Dawna Lee; Oddatee (Brooklyn spoken word and rap artist, and part of Dälek's posse) and those who need little introduction: Jeb Loy Nichols, Junior Delgado and Mark Stewart - the great man of The Pop Group, On-U-Sound and Tackhead himself.
"Except Junior Delgado, every other vocalist we met or got in contact though friends," explains the Surfers' Wolfgang Schlögl "I hope that makes the album... not rounder, but more lifelike. Mark Stewart read an article about us, and coincidentally, Jeb told him he was working with us, so we got in contact. Mark came to Vienna and we had a very intense week in the studio. We took Dawna's vocals from an acapella. She thinks it's out of time. But we like it exactly that way."
Even though some of the tracks have been created with artists from the spoken word/oral culture scene, Encounters is no hiphop album. What it represents is a step towards an open artistic process where rap functions as a universal medium of cultural expression, questioning all notions of national identity and territorial thinking.
Around the time the band started work on Encounters, a well-documented right-wing backlash hit their native Austria. By the time the album was finished, they had formulated a forceful riposte to the country's political mood. Encounters is testament to a global understanding of individual identities, defying any notion of borders, as guest artists hailing from many different cultures meet to create a musical statement against all kinds of xenophobia.
The album shifts between bruising political fire and more languorous, soul-searching songs - the eye of the storm is Dawna Lee's emotive, beautiful 'Can I Get A Witness' - before it tears off into Mark Stewart's fearsome 'Home Truths'.
The double vinyl of Encounters is a Klein Records release, specially imported to the UK by The Leaf Label.
TRACKS
1. Formula (feat. Sensational)
2. 21st Century Army (feat. Oddatee)
3. River Blues (feat. Jeb Loy Nichols)
4. Babylon Tymes (feat. DJ Collage)
5. Twisted Tongue (feat. DJ Collage)
6. Elusive Scripts (feat. Dälek and Dev1)
7. What Kind Of World (feat. Lil Desmond Levy)
8. See The Light (feat. Junior Delgado)
9. Can I Get A Witness (feat. Dawna Lee)
10. Home Truths (feat. Mark Stewart)
11. Passin' Tru (feat. DJ Collage)
12. Selling Souls (feat. MC Santana)
13. Gamelan
OTHER
http://www.kleinrecords.com