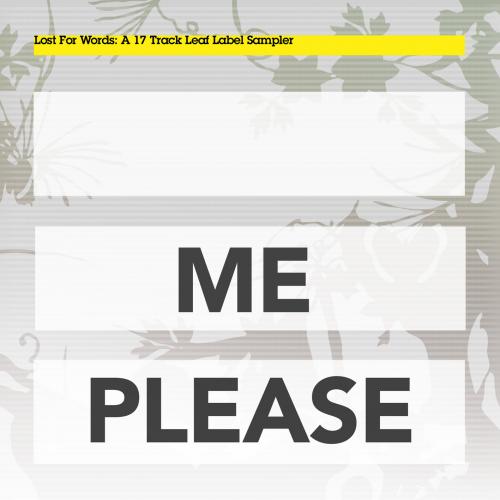 Lost For Words
by
Various Artists
Formats:
Budget-Priced Sampler CD (BAY 27CD) Digital (BAY 27E)
Release Date:
2 September 2002
A full-length label compilation for the price of a CD single? You may well find yourself Lost For Words at the prospect of such bounty.
Lost For Words is the successor to the enormously popular Osmosis budget-priced sampler from 1999 which ushered in The Leaf Label's second wave of artists, including Susumu Yokota, Eardrum, Gorodisch and 310. Lost For Words consolidates the reputation of a label that has grown exponentially since then, with the deserved success of Yokota and Dan Snaith, and worldwide critical acclaim for the likes of Murcof and Asa-Chang & Junray.
Lost For Words gives you a bargain-priced opportunity to hear tracks from two years of Leaf album releases – Murcof, Asa-Chang & Junray, Boom Bip & Doseone and A Small Good Thing – as well as other highlights from the Leaf back catalogue, with offerings from Snaith, Susumu Yokota, Gorodisch and 310.
Asa-Chang & Junray's 'Hana' is already an undisputed classic. Sofa Surfers' stunning rework of Eardrum is given a timely re-release (its first time on CD), now that Leaf will be releasing the Surfers new album in the UK. 'Fairy Link' and 'Future Tiger' are taken from The Boy And The Tree, Susumu Yokota's highly anticipated follow up to 2001's Grinning Cat album. Murcof and Boom Bip & Doseone, two of Leaf's latest finds, each contribute two tracks.
And what about an exclusive nugget or two? Step forward those international men of mystery, The Sons Of Silence, whose first release in three years wass a track they recorded for the soundtrack of cult UK TV show "Spaced". Plus a live Eardrum track, recorded at the Leaf party at London's Cargo, and brand new, previously unreleased cuts by Dan Snaith, 310 and Gorodisch.
The album features another classic design by Non-Format, giving the option of four different front covers for those with short attention spans. The artwork also includes further information about each of the tracks included on the CD.
TRACKS
1. Asa-Chang & Junray - Hana
2. Boom Bip & Doseone - Me And People
3. Murcof - Memoria
4. Susumu Yokota - Fairy Link
5. Caribou (formerly Dan Snaith's Manitoba) - Air Doom
6. Murcof - Mir
7. Gorodisch - The Killing
8. A Small Good Thing - Saloon Dreams (edit)
9. Asa-Chang & Junray - Nigatsu
10. The Sons Of Silence - The Mit Out Sound
11. Eardrum - Low Order (Sofa Surfers Rework)
12. 310 - Installation Linoleum
13. Eardrum - Red Eye (live edit)
14. Susumu Yokota - Future Tiger
15. Gorodisch - Setting Sail
16. Caribou (formerly Dan Snaith's Manitoba) - Tits & Ass: The Great Canadian Weekend
17. Boom Bip & Doseone - 21 to 35