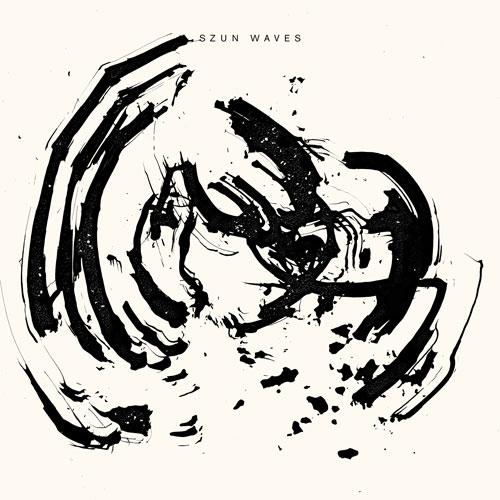 New Hymn To Freedom
by
Szun Waves
Formats:
Limited edition double vinyl LP + bonus CD (BAY 111V) Digital (BAY 111E) CD (BAY 111CD)
Release Date:
31 August 2018
Sometimes in improvised music there can be a distance between listener and players, a sense you're sitting back and admiring their interplay and abstraction – but with Szun Waves' second album, you're right in there with them, inside the playing, experiencing the absolute joy the three musicians feel as they circle around each other, exploring the spaces they've opened up.
The three members already have sparkling pedigrees of their own. Norfolk's Luke Abbott is well known for his explorations of the zones between pure ambience and the leftmost fringes of club culture. With Portico Quartet and Circle Traps, Jack Wyllie has been in the vanguard of UK fusions of jazz, classical and club music. Australian drummer Laurence Pike has likewise found a unique voice in improvised and experimental music-making, whether in the bands Triosk or PVT, or as a solo artist (his debut album Distant Early Warning was released in March 2018).
The trio's musical relationship has grown naturally and steadily, and it shows. From Wyllie adding shimmering sustained sax notes to Abbott's gorgeous ambient pieces in 2013, Szun Waves emerged when Pike was added to the mix, energising the sound but still keeping its levitational qualities. Their 2016 self-released debut album hit a natural groove – it was a "proof of concept" as Abbott says – and now they're in a place of pure spontaneity: New Hymn To Freedom is a document of six entirely live improvisations – "no edits or overdubs" – and its title couldn't be more apt.
In some senses this is jazz, and in its ripples, sparkles and waves of rhythm will certainly chime with anyone turned on by Don Cherry, Alice Coltrane or Sun Ra. But just as much it's in the British electronic tradition of artists like James Holden (in whose studio the first album was recorded), Four Tet and Nathan Fake that Abbott has emerged from – only now instead of his synths echoing Norfolk's wide open pastoral landscapes, they're depicting altogether more celestial vistas. Indeed, the drifting ecstasies of this record take you to dimensions that only the most genre-free musicians can reach: you might hear hints of Can, Ryuichi Sakamoto or even Liars.
But really, this isn't the sound of any influence other than the influence the three players are having on each other, and how happy that makes them. "It still feels to me like a mystical adventure when we play," says Abbott, "but there's a musical language developing between us, we're starting to make more sense together."
TRACKS
CD: LP:
1. A1. Constellation
2. A2. Fall Into Water
3. B1. High Szun
4. B2. Temple
5. C1. Moon Runes
6. C2. New Hymn To Freedom
D. Slow Motion (vinyl only bonus track)
OTHER
Bandcamp