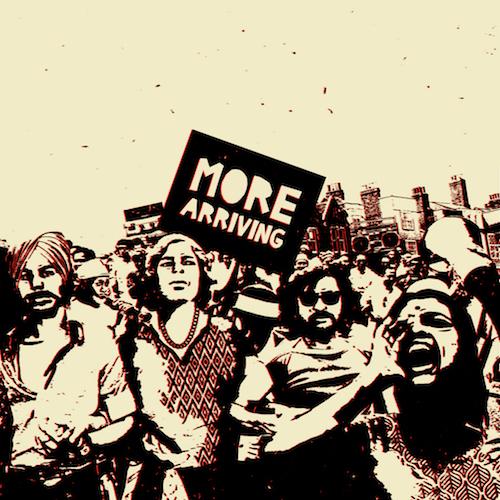 More Arriving
by
Sarathy Korwar
Formats:
CD (BAY112CD) Black Vinyl LP + DL (BAY112V) Limited edition transparent red vinyl LP + DL (BAY112VX) Limited edition clear vinyl LP + DL (Rough Trade) (BAY 112VRT) Limited edition mango vinyl (BAY 112VO) Digital (BAY112E)
Release Date:
26 July 2019
We live in divisive times. Multiculturalism rises hand-in-hand with racial tensions, and politicians seem powerless to even bring people within earshot of their convoluted message. It's time for a different perspective.
On his second studio album, More Arriving, Sarathy Korwar blasts out his own vibrant, pluralistic missive for the world to hear. This is not necessarily a record of unity; it's an honest reflection of Korwar's experience of being an Indian in a divided Britain. Incorporating rappers from Mumbai and New Delhi with spoken word and his own Indian classical and jazz instrumentation, this is a record born of confrontation; one for our confrontational times.
With this album, Korwar expands his politicised narrative to envelop the entire diaspora. "This is a modern brown record. The kind of record that a contemporary Indian living in the UK for the past 10 years would make," Korwar says. "This is what Indian music sounds like to me right now, and that means incorporating multiple brown voices. If anyone has a problem with that, they should be questioning what they think Indian music should be."
More Arriving is a spellbinding concoction of Korwar's undulating percussion with, among others, The Comet Is Coming's Danalogue on synths, Tamar Osborn's baritone sax, Indo-jazz specialist Al MacSween, and – crucially – the voices of the brown diaspora. Recorded over two and a half years in India and the UK, the album draws on the nascent rap scenes of Mumbai and New Delhi, which Korwar became fascinated with while travelling in India in 2016, and features many of its most exciting artists.
Lead single 'Mumbay' features Bombay-born MC Mawali punning on the politicised associations of the colonial term Bombay or the Indian nationalist Mumbai when referencing his hometown. Mawali applies classical Carnatic rhythms to his Hindi/ Marathi flow, dancing effortlessly over Osborn and Korwar's coruscating rhythms. 'Coolie' features Punjabi MC Prabh Deep alongside Jamaican-Indian rapper Delhi Sultanate, who raps in patois to relate the story of indentured Indian labourers, used as a new form of slavery to work British plantations in Jamaica, bringing the cannabis seed with them in the process. Londonbased poet Zia Ahmed features on the droll 'Mango' and album centrepiece 'Bol', while author Deepak Unnikrishnan unpacks the dialectic term for immigrant on the album's defining text, 'Pravasis'.
There are, of course, also lush instrumentals like 'City of Words', featuring a keening alto sax solo from Chris Williams, as well as the vocal acrobatics of Indian classical singer Mirande on 'Good Ol' Vilayati' – the title a pun on the word 'vilayati' meaning 'whitey' in Hindi slang, and its colonial morphing into 'Blighty' by the British.
The record is accompanied by the striking cover art of Tushar Menon. The design pays tribute to the street protests held all over Britain in the 1970s and '80s as part of the Asian Youth Movement that saw South Asians and people of colour unite in solidarity against the rising racism and nationalism of the National Front and their supporters. As Korwar says: "Now seems like the perfect moment to remember this collective show of strength, pride and inclusivity, as we find ourselves in similarly divisive times. We need this strength in representation and numbers."
It all begins with the title: "More Arriving comes from the scaremongering around Brexit," Korwar says. "It's a tongue-in-cheek play on the fact that there are more people coming and you'll have to deal with it!" Through this defiance, Korwar takes clear pride in the knotty mix of his identity – harking back to the new India of the Mumbai hip-hop kids, as well as identifying with London's cultural diversity. "I want the idea of brown pride to come through," he says. "My voice is one amongst a thousand, but this record is a snapshot of something much greater than myself. It's the chance to send a message."
TRACKS
1. Mumbay (featuring MC Mawali)
2. Jallaad
3. Coolie (featuring Delhi Sultanate & Prabh Deep)
4. Bol (featuring Zia Ahmed & Aditya Prakash)
5. Mango (featuring Zia Ahmed)
6. City of Words (featuring TRAP POJU & Mirande)
7. Good Ol' Vilayati (featuring Mirande)
8. Pravasis (featuring Deepak Unnikrishnan)
OTHER
Bandcamp
Buy mango vinyl