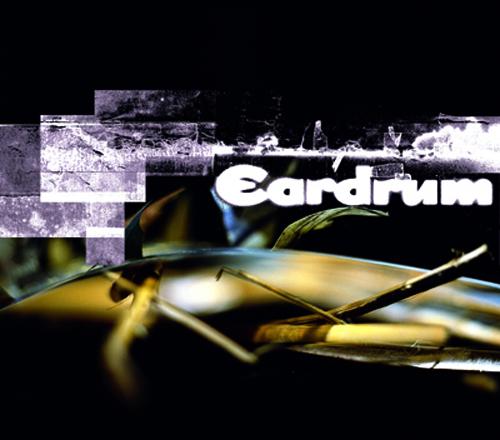 Side Effects
by
Eardrum
Formats:
CD (BAY 18CD) Limited Edition Double Vinyl LP (1,800 copies) (BAY 18V) Digital (BAY 18E)
Release Date:
1 October 2001
Down the steep narrow stairs to Eardrum's studio demi-monde in Clerkenwell, where you are greeted by the unmistakeable notes of an old Sun Ra tape and a sense of being deep underground.
Enter a blonde wood-panelled recording space (that late at night looks, and sometimes feels, like a sauna), piled up to the roof with kit. In the midst of this cacophony-in-waiting are Lou Ciccotelli and Richard Olatunde Baker, seasoned musicians with respective histories in Laika, Spleen, Mass, Kevin Martin's God and Ice projects as well as Cath Coffey, NT, the poet Akure Wal and various African percussion groups. Now they begin playing together, back to back, lost to the shifting patterns of rhythmic percussion. This is the simple heart of Eardrum's hypnotic groove assault.
Eardrum's second album, Side Effects, is a testament to the methods of both improvisation – afrobeat, free jazz, musique concrète and carnival street music – and the insularity of studio manipulation. Inspiration comes from Miles Davis, Lee Perry, Fela Kuti, the limitless influence of African music and the aural chaos of London life.
Side Effects evokes cinematic imagery, sparked from dark urban and untamed rural counterpoints. Musical textures are in continual flow, a sense of motor drive and movement creating a sensation akin to road hypnosis. Harnessing the talents of diverse musicians from distinct disciplines, Side Effects is the link between the ambient rhythmscape of Last Light and the dynamic, unpredictable energy of Eardrum's live performances.
As much a live force these days as a studio-bound entity, Eardrum performed at last year's Notting Hill Carnival, as well as a stunning set at Paris' Batofar. Further shows are planned around the release of Side Effects.
An EP of remixes of tracks from Last Light (featuring reworkings by Eardrum fans Ashley Beedle, Sofa Surfers, Monolake and Freeform), added names like Jazzanova, Laurent Garnier, Richard Dorfmeister and Matthew Herbert to a list of devotees that include Richie Hawtin, Andrew Weatherall, Frederic Galliano, Jason Swinscoe and Alex Attias. Eardrum repaid the Sofa Surfers' favour on their remix album Constructions alongside Mad Professor, Howie B, Ian Simmonds and others. A remix for the Kalahari Bushmen project on M.E.L.T. 2000 appears on the second volume of the Sanscape project.
The contributing musicians include Jason Yarde (J Life, Yoruba Jazz People, Manu Dibango), Folasade Barbarinde (Adzido Pan African Dance and Drum ensemble), Gary Jeff (Mass, God, Scalpel), Nii Tagoe (Adzido, Frititi, African Head Charge), Nana Tsiboe (Dade Krama, Moire Drum Orchestra, Trouble Dat) and Guy Fixsen (Laika).
TRACKS
1. Little Bang Theory
2. Red Eye
3. Sleep Test
4. Two Strangers
5. Lightfell
6. Deadbeat
7. Family Mask
8. Sandblasted
9. Trickster Tale
10. Escape From Evil
12. Darker Still
13. Deep End
REVIEWS
All Music Guide