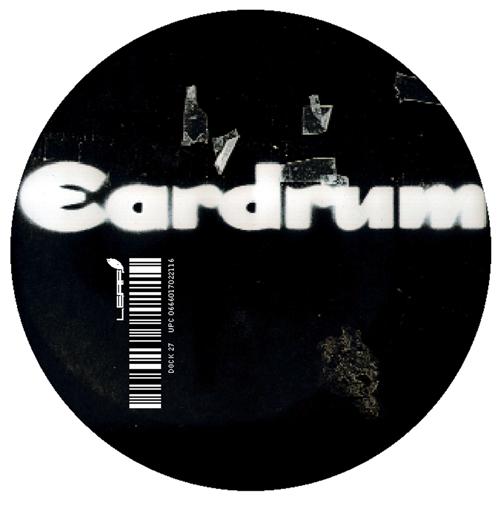 Deadbeat
by
Eardrum
Formats:
Limited Edition 12" EP (DOCK 27)
Release Date:
6 August 2001
Their first new work in nearly two years, Eardrum return with this strictly limited three track 12" (1500 copies worldwide). On these recordings, taken from sessions that will comprise the group's second album, Side Effects (to be released in October 2001), all instruments are played by the core of the group, percussionists Richard Olatunde Baker and Lou Ciccotelli. Largely improvised in the studio, they use a wider range of instruments than in the past - among others talking drums, Sakara (Nigerian tonal drums) and Brekete (bass drums with a buzzing sound from Ghana, played on Escape from Evil by Nana Tsiboe). These mixes of the tracks will only be available on this 12".
These new recordings take a significant step further into the realms of Miles Davis circa Bitches Brew, Sun Ra, afro-beat, ecstatic jazz and a particular strain of tight, syncopated, talking drum music from Nigeria known as Fuji. Played live in it's entirety, then ruthlessly edited in the studio, Eardrum's music evokes the wild experimention of Teo Macero's finest 70s work. There's an unsetlling, dark carnival atmosphere at play here, chaotic but always under control.
TRACKS
A1. Escape From Evil (First Journey)
B1. The Bone Room (Tempo Mix)
B2. Deadbeat (Beaten)