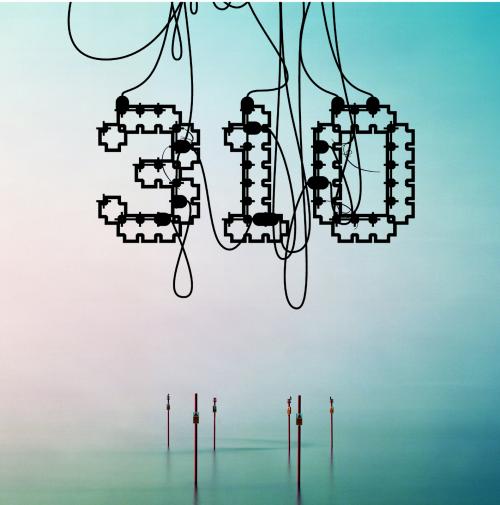 Recessional
by
310
Formats:
CD (BAY 33CD) Limited Edition Double Vinyl LP (1,000 copies) (BAY 33V) Digital (BAY 33E)
Release Date:
13 October 2003
'A love song for the melting of the polar ice caps'
Sonic storytellers 310 return with their fifth album - without doubt their most accomplished and accessible to date. Distilled from two years of work, and including four vocal tracks that accentuate the dreamlike narrative that emerges as one explores the album.
The seamless mix of songs and instrumental pieces creates a deep river of sound that more than repays repeated listening. From the lush, hypnotic opener 'Opposite Corners', through the ambitious, eastern-sounding 'Night On The Ocean', to the nouveau prog of 'ExuMix' (which started life as remix of a track by Voodoo Muzak), there's a variety and depth to these adventures in hi-fi that draws the listener in.
Now a fully fledged trio, and spread right across the American continent, 310 are Tim Donovan (Brooklyn), Joseph Dierker (Seattle) and Andrew Sigler (LA).
"We created a lot of tracks before we found the voice of the record", says Tim. "310 continues to evolve and with each record we feel that it's our best work. That's all you can ask for with a creative project."
Formulated around themes of cities and oceans, streets and rivers, the album takes elements of music from the last three decades to synthesise something that could only have been created in the 21st Century. The aquatic travelogue is perhaps most apparent in the lyrics to 'Pacific Gravity', a track that was introduced as an instrumental on the group's 1999 album, The Dirty Rope.
TRACKS
1. Opposite Corners
2. Shadow Traffic
3. A Fare to Remember
4. Night on the Ocean
5. Exumix
6. Swing Moderate White
7. Installation Linoleum
8. Bones Like Tikkas
9. Cloud Rooms
10. Moving Platform
11. 11
12. Study in Scarlet
13. Pacific Gravity (vocal version)
14. More North than Portland
15. Come Back Again
REVIEWS
The Milkfactory