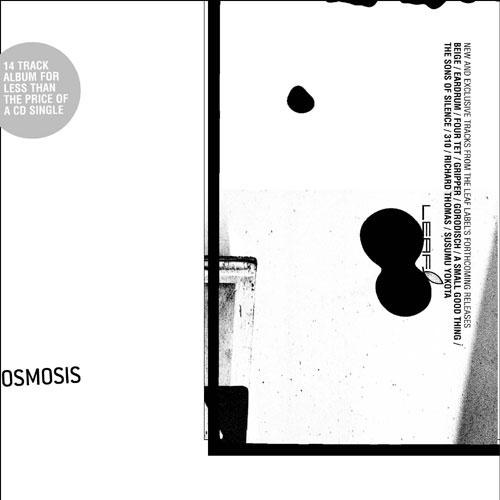 Osmosis
by
Various Artists
Formats:
Budget-Priced Sampler CD (BAY 10CD) Digital (BAY 10E)
Release Date:
3 August 1999
The budget-priced Osmosis label sampler, released in 1999, was something of a watershed for the label, introducing many of the artists that went on to establish the label's reputation. You can find the original press release for the album below.
Osmosis is a 14-track album of new and exclusive tracks from The Leaf Label, available for less than the price of a single. The CD showcases releases by many of the label's recent signings, together with a few exclusive cuts by old favourites such as The Sons Of Silence and A Small Good Thing. Just one track has been available previously.
Since it began in 1995, Leaf has built an enviable reputation for quality electronica that's impossible to pigeonhole. The Classic Plant compilation collected sought after singles from the likes of Boymerang, The Sons Of Silence, Ronnie & Clyde and Witchman, and the label's stature is consolidated here.
310
This US duo (based in New York and Seattle) have released two singles on Leaf, of which Nod was the second. The first was a slightly (ie: very) illegal cut up of prog rock monsters from Pink Floyd to Yes. 310 are two old friends from New York: Joseph Dierker and Tim Donovan (engineer at some of NYC's top studios; has worked with A Tribe Called Quest, The Roots, Wu Tang and Britney Spears. It's true, we tell you no lies!).
BEIGE
Beige is an unassuming young gentleman from Cologne by the name of Oli Braun. His only previous releases were a couple of tracks on Bernd Friedmann's classic Deutscher Funk compilation. His work is a unique fusion of house music's musical iconography and stripped down, funky-as-fuck electronica, together with a genuine sense of humour. His debut album I Don't Either and the awesome alien house of The Rhythm! The Message? tore up dancefloors late in 2000. This is the real future funk.
SUSUMU YOKOTA
Yokota is earning heaps of praise for his super-funky blend of house, techno, disco and breaks. "[He] has more ideas in the space of one album than most house producers have in their entire careers" said Mixmag of 1999, his acclaimed techno/house LP on Japan's Sublime label. Leaf has licensed 'Image 1983-1998', 'Magic Thread' and 'Sakura', albums of mainly acoustic and oddly moving instrumental pieces from Yokota's own Skintone label, representing a very different side to his musical persona.
EARDRUM
Percussionist Lou Ciccotelli has played with Laika and Kevin Martin's God and Ice projects amongst others, and, together with Richard Olatunde Baker, released a 12" as Eardrum on Soul Static Sound in 1996. The album Last Light is their debut album, ten percussion-heavy rhythmic leviathans - the missing link between 23 Skidoo, Afrobeat and Jon Hassell's Fourth World project.
THE SONS OF SILENCE
Should need no introduction from us, though the last couple of years have (musically) been quiet for them, with only a 7" release of Bobby Dazzler (from The Acid House soundtrack) to their name. The Sonar Song is an exclusive taste of things to come.
FOUR TET
Kieran Hebden has made quite a name for himself recently, with releases both as Four Tet and as one third of Fridge. His debut release as Four Tet was for Invisible Soundtracks on Leaf, and he consolidates that here with this new track taken from the soundclash collaboration with Stefan Betke's Pole (a new track each, plus remixes of each other's tracks), released mid-2000.
A SMALL GOOD THING
This was ASGT's only release in 1999, an exclusive version of 'El Mariachi Loco' from the Slim Westerns II project. Very much an 'invisible soundtrack'-style release, the first Slim Westerns was released in 1994 by the US Soleilmoon label to widespread cult acclaim. The Leaf label released their last album, the lost-classic Block, in 1997.
GORODISCH
Gorodisch is one Stephen Cracknell. This is his debut solo release, a lush, languid beat symphony. While studying jazz guitar, Cracknell used to buy and sell rare records, running a stall in Camden and Portobello. He was also one of the founders of the Trunk reissue label and the depth of his musical knowledge manifests itself in his music.
RICHARD THOMAS
Though Lo Recordings released Richard's debut Shoes And Radios Attract Paint album last year, Leaf had already included the Welshman's work as part of the Invisible Soundtracks series. A limited edition 8-track 7" single (What My Ears Can See) followed on Leaf in October 1998. 'Pienso Que' (I Think That) is exclusive to this CD. A unique talent.
GRIPPER
A version of this epic track is to be released as a single later this year, but this version will remain exclusive to this CD. Gripper released the fabulous Lalo-Schifrin-meets-The-Glitter-Band-uptown skank of 'Prostate Boogie' on Leaf last year, and this is the first we've heard since. Alan Gubby, the man behind Gripper, has been releasing records for over seven years under various guises, in many different styles. He has previously recorded as Jung Collective, Argonort, Hydraflow, Jazz Spanky's Sound Approach, Floating Point and Monoslapper.
TRACKS
1. 310 - Nod
2. Beige - The Rhythm! The Message?
3. Susumu Yokota - Morino Gakudan
4. Eardrum - Swarm
5. 310 - Jet Pack Time
6. The Sons Of Silence - The Sonar Song
7. Four Tet - Cload
8. A Small Good Thing - El Mariachi Loco (The Siesta)
9. Eardrum - Nightcrawler
10. Beige - Melodramatic System Error
11. Gorodisch - Omaha
12. Richard Thomas - Pienso Que
13. Gripper - As Usual [Version]
14. Susumu Yokota - Kawano Hotorino Kinoshitade