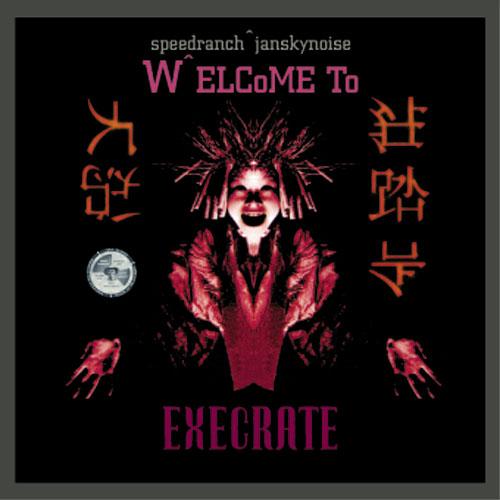 Speedranch^Jansky Noise Present: Welcome To Execrate
by
Various Artists
Formats:
CD (BAY 4CD) Digital (BAY 4E)
Release Date:
29 March 1999
If nothing else, the '98 end of year round ups betrayed a dearth of exciting new music. What a year previously was only an intimation was rapidly becoming a consensus - that much of the music currently in the public eye has stagnated and the record-buying public's more inquisitive minds are desperate for something new ("Time for another recession?" - Simon Reynolds).
Feted in an infamous Wire magazine cover story ('Harder! Faster! Louder!' Oct 1998), Manchester's DJ Speedranch and Jansky Noise (the latter one half of the notorious V/Vm crew) are lighting the blue touch paper beneath the remains of the established music industry. Love them or loathe them, these two are provoking a welcome reaction, a kick up the arse of music.
Take an infamous London appearance, where their highly anticipated performance disintegrated in a barrage of projectiles and invective thrown by the audience - the sound engineer pulling the plug after just 15 bruising minutes. But while a number of disgruntled punters hurled abuse (some even demanding their money back), just as many found the event an exhilarating breath of fresh air, a cathartic blast of noise in an ocean of mediocrity.
Speedranch and Jansky Noise's first mix CD is a mash up of exclusive tracks by the likes of Stock Hausen & Walkman, 2nd Gen, Faultline and DJ Olive (from We); turntablists like Mix Master Mike; contributions from a host of other like-minded producers including David Shea, James Plotkin, Otomo Yoshihide and V/Vm; found sounds and blatant steals; as well as plenty of their own compositions.
This is the jetsam of millennial punk rock, a volcanic wake-up call. And it might leave you wondering if you're too old for this sort of thing...
special guest stars:
Stock Hausen & Walkman
also includes contributions by:
Bigroad Breaker
Byzar
Celluloid Mata
Lucky Kitchen
Mild Man Jan
Navicom
James Plotkin
Semiconductor
David Shea
Vomit Lunch
V/Vm
Otomo Yoshihide
TRACKS
1. Intro - We Need Your War (Bringer) - Speedranch^Jansky Noise
2. Noise Grinder - Speedranch^Jansky Noise
3. Disposable Icons Of The Future - Speedranch^Jansky Noise
4. Primed For Survival - Speedranch^Jansky Noise
5. Cave Control - Cave Control
6. Erasing String Q - Speedranch^Jansky Noise
7. Nuclear Cats Get New Home - Hrvatski & Blitter
8. Botanical Mattress With Fleas In A Midnight Toker - Speedranch^Jansky Noise
9. Second Clock Crash - Elektroplasma
10. Awake - Faultline
11. Annual Gift Man Who Comes From The Moon At Halloween - The Veilgud Brothers
12. Sincro-Industry - ADC
13. Foil - DJ Olive & Voke
14. Sodium Aminate - Diskbootik
15. BodyBurst - Verb
16. Billie Klubb - Mix Master Mike
17. Exist Slowly - 2nd Gen
18. Eating Lunch With Jason And His Argonauts - Snorley
19. Sapid (Dust Devil) - Speedranch^Jansky Noise
20. Hardware (Weapons Of Mass Destruction) - Speedranch^Jansky Noise
21. Glory, Glory, Gloria Estefan's Bazoomas - The Palin Chorus
22. Hawaii - Bill Oddie Vs Chris Packham
23. Loop 1 - Speedranch^Jansky Noise
24. Loop 2 - Speedranch^Jansky Noise
25. Loop 3 - Speedranch^Jansky Noise
26. Loop 4 - Speedranch^Jansky Noise
27. Loop 5 - Speedranch^Jansky Noise
28. Loop 6 - Speedranch^Jansky Noise
29. Loop 7 - Speedranch^Jansky Noise
OTHER
http://www.sp-jn.co.uk