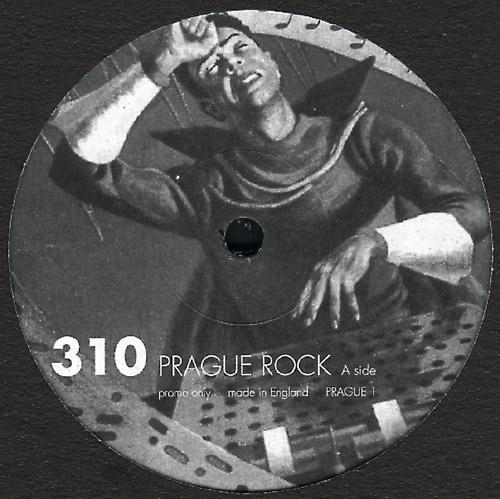 Prague Rock
by
310
Formats:
Limited Edition 12" EP (PRAGUE 1)
Release Date:
22 February 1999
The first US signing to the Leaf stable, 310 release their debut EP as a limited edition 'bootleg' 12" of plunderphonic wonder (1,000 copies). Prague Rock does exactly what it says on the tin - feeding the overbearing progressive rock behemoths of the 70s into a blender and squeezing out five tracks of remarkable dexterity and scope.
It's a loving tribute, though the tracks do take a pop at the self-important pomposity of prog rock, not least through the use of interview recordings to introduce each track. Each cut takes around half-a-dozen snatches of songs by the chosen artist and fuses an homage of Shadow-esque proportions, retaining a respectful degree of heaviosity...
There's a seductive irony in US kids paying respect at the altar of the over-bred English public schoolboys of a quarter of a century ago. Where a British group might pilfer old funk or electro for samples, 310 have simply taken the music they grew up with, a refreshingly American take on sampladelia.
Put together by two old friends from New York, Joseph Dierker (currently resident in Seattle) and Tim Donovan (engineer at some of NYC's top studios; has worked with A Tribe Called Quest, Wu Tang, etc), the duo work by relaying tapes of new work across the continent, each building on the other's previous work.
Having previously released two albums on their own label in the US, this is 310's first release on The Leaf Label.
Check 310's website at www.310.org
TRACKS
A1. The Voice Of Britain [Genesis]
A2. Pipeless And Smoking Crack [King Crimson]
A3. Trustus [Pink Floyd]
B1. Worn At The Heels [Jethro Tull]
B2. Sharp / Distance [Yes]