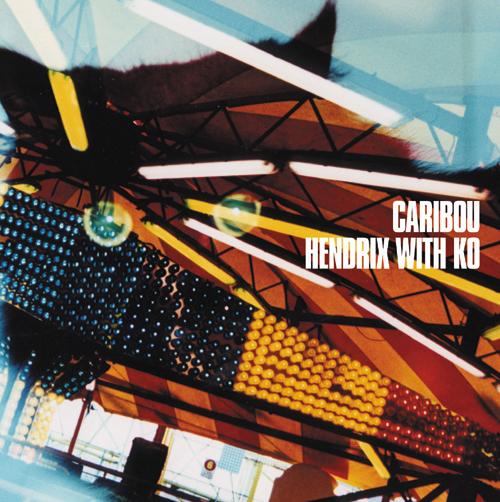 Hendrix With Ko
by
Caribou
Formats:
CD (DOCK 36CD) 12" (DOCK 36)
Release Date:
14 July 2003
Hendrix With Ko is the second single to be taken from Dan Snaith's groundbreaking second album, Up In Flames, and features vocals by the notoriously reclusive Koushik Ghosh (who's only release to date has been on Kieran Hebden's Text Records imprint). Ko's chops are alternately meshed with an off-centre rock beat, fragmented harp and an infectious electro-melody. On Hendrix With Ko, as on the rest of Up In Flames, Dan Snaith straddles the worlds of cutting-edge electronic music and good ol' fashioned pop songcraft, with consummate ease.
The single marks another high point in an already wild year for Dan, with critical accolades, record sales and tour dates piling up around the globe. Up In Flames has been awarded Album Of The Issue in Jockey Slut, Hot Press, DMC Update and Loaded, and the band were recently placed in the NME's Top 10 live bands in the UK.
Hendrix with Ko is backed with two previously unreleased gems taken from the same sessions that produced Up In Flames. On CD, the music is complimented by Delicious Nine's stunning video for previous single Jacknuggeted.
OOPS! There is a typo on the sleeve of the CD. They are listed in the correct order here but the more observant of you will notice that the tracks 'Silver Splinters' and 'Cherrybomb' are listed in the reverse order on your CDs.
PLEASE NOTE: this single was originally released under the name Manitoba, before Dan Snaith was forced to change his artist name for legal reasons. The artwork above is a mock-up: the artwork for the CD and vinyl editions featured the name Manitoba rather than Caribou.
TRACKS
1. Hendrix With Ko
2. Silver Splinters
3. Cherrybomb
4. Jacknuggeted (video)
REVIEWS
All Music Guide