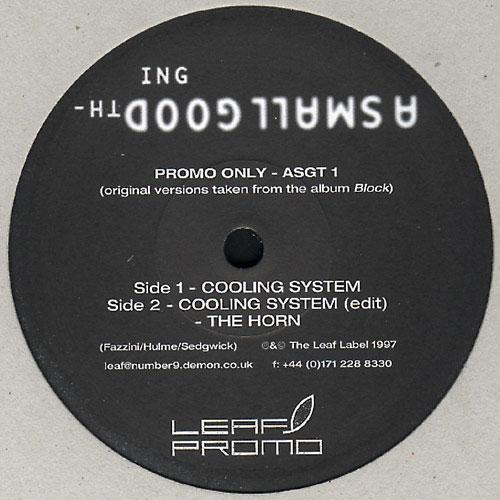 Cooling System
by
A Small Good Thing
Formats:
Limited Edition 12" promo (700 copies) (deleted) (ASGT 1)
Release Date:
1 July 1997
In the midst of a long, wet summer comes a hot, dry sound blowing in from the north...
A Small Good Thing is the name of the group. They move in mysterious ways, as you will hear when you listen to 'Cooling System' - a candle-lit journey down a corridor you thought you knew so well.
'Cooling System' is taken from the album Block, which is the first UK release for a group that have already released three cult albums on the US Soleilmoon label.
A Small Good Thing are a bunch of multi-instrumentalists who have visited other lands in the past: the bone-stripping dry desert of their Slim Westerns debut (1994), the fetid heat of an old-time preacher's tent that emanates from the Cool, Cool Water EP (1996) and the queasy listening music that seeps out of The Pink And Purple World Of Dishonesty (1997). Wherever they lay their hats, that'll do for the night.
For years they've created music in the most creative atmosphere possible: total isolation from modern music. But now they've come in from the cold, discovered the world isn't such a lonely place and made 'Cooling System': a record that's nut deep in swishness, sleaze and loping beats.
This limited promo only 12" contains two reworked versions of the track (a club mix and an edit) plus another cut from the album, entitled The Horn.
"Intimate thoughts behind concrete facades"
TRACKS
A1 Cooling System
B1 Cooling System [edit]
B2 The Horn