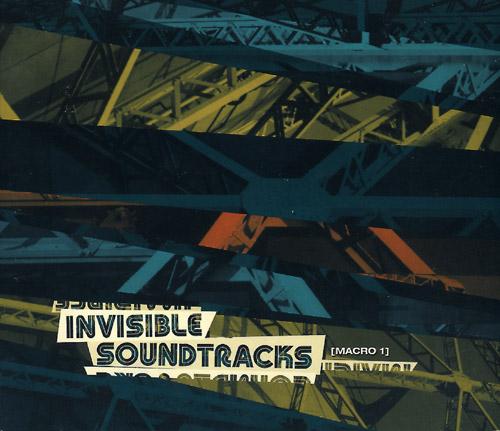 Invisible Soundracks: Macro 1
by
Various Artists
Formats:
CD (REEL 12CD)
Release Date:
19 May 1997
This CD only release is a compilation of two acclaimed EPs (Invisible Soundtracks Volume I & II), together with four new tracks and several further incidental pieces by Richard Thomas.
The Invisible Soundtracks series was launched in 1995, with a simple brief: contributors (who include both established and new artists) were asked to produce an evocative piece of music for an imaginary film, in whatever style the musician cared to choose. Thus far, two 12" only EPs have been released, the first in July 1995, the second a year later. Both EPs were limited to 1,000 copies each and have now sold out. All tracks are exclusive to the series.
The resulting collection works effectively as a whole, open to the listener's own visual interpretation. This is not ambient music, it's atmospheric music to be listened to with the lights down low, suggesting images of the darkenened hulls of lost spaceships, cocktail bars on Pacific islands or imperial palaces in the Russian Steppes. Hiding behind the settee may or may not be necessary...
Richard Thomas
The Welsh eccentric provides six incidental pieces on Invisible Soundtracks: Macro 1, the glue that holds the collection together. 'Intrusion Reported By Witness' and 'Muffin Spencer-Devlin / Hawaii II' appeared on Volume II, and were his first released recordings. The other four (including the hidden track at the end of the CD), are all available for the first time here. All the tracks were mastered from cassette tape (hence the inherent hiss, which adds to the 'found sound' feel of the tracks). Some are snippets of much longer, more expansive pieces.
Zurich
Zurich are Neil Halstead (of Slowdive/Mojave 3) and Tony 'Spykid' Wilson (Echo Park). 'A Harsh Truth' is the oldest track on IS, recorded in January 1994, and originally appeared on Volume I.
The Sons Of Silence
The Sons should be strangers to no-one, their releases on Leaf cementing their reputation as wry sound manipulators. 'The Crater Rim Café' (a new track) evokes Angelo Badalamenti's finest work with David Lynch.
Nonplace Urban Field
NUF is one Bernd Friedmann, burgher of Cologne and co-conspirator of the likes of Atom Heart (as Flanger). He now has his own label, Nonplace, whose debut album, Con Ritmo, was released in 2000. 'Beachside FX' is exclusive to this CD.
Being
'Cue' was the first track ever released by Edinburgh's Dave Being (as he prefers to be known), back in July 1995. He has subsequently released material on Andrew Weatherall's Special Emissions imprint, as well as the German Spacefrog label.
Bedouin Ascent
Kingsuk Biswas is best known for his future tech-jazz on Rising High. 'If Mountains Could Sing' appeared on Volume II, and is arguably one of the best pieces Biz has yet produced.
Disjecta
Mark Clifford records for Warp, both as the ultra-minimal Disjecta and as part of Seefeel. 'Vistic' was first heard on Volume I, and was, at the time, his first release under the Disjecta name.
Twisted Science
'Sloop B' is one of the more atmospheric tracks by Lo Recordings' supremo Jon Tye's fucked up noise project, Twisted Science. Exclusive to this CD.
Air Miami
Teenbeat president Mark Robinson's homage to the '50s science fiction B-movie soundtrack. Air Miami (formerly Unrest) have released awesome pop oddness on 4AD and Teenbeat. 'Nevada 2007' is exclusive to this CD.
Gescom
Sean Booth and Rob Brown should need no introduction to fans of electronica. 'Bronchusix' originally appeared on Volume I.
Seymour/Van Hoen
Mark Van Hoen (Locust) and Daren Seymour (Seefeel) released a fine collaborative album on Touch (Aurobindo: Involution) in 1995. This is the only other track to surface from the duo to date: a haunting tribute to the films of Tarkovsky. It first appeared on Volume II.
Vendor Refill
Tom Betts was another debutante on the Invisible Soundtracks series. He has subsequently recorded for Skam. The massive 'Pendulum' featured on Volume II.
TRACKS
1. Richard Thomas - Menage a Trois
2. Zurich - A Harsh Truth (Parts I & II)
3. The Sons Of Silence - The Crater Rim Cafe
4. Nonplace Urban Field - Beachside FX
5. Richard Thomas - Here I Am
6. Being - Cue
7. Bedouin Ascent - If Mountains Could Sing
8. Disjecta - Vistic
9. Richard Thomas - Intrusion Reported By Witness
10. Twisted Science - Sloop B
11. Richard Thomas - Muffin Spencer-Devlin|Hawaii II
12. Richard Thomas - Dirt vs Earth (Part II)
13. Air Miami - Nevada 2007
14. Gescom - Bronchusix
15. Seymour/Van Hoen - Tema
16. Vendor Refill - Pendulum