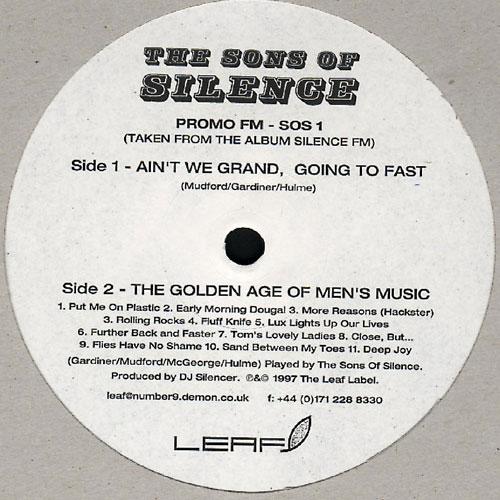 Promo FM
by
The Sons Of Silence
Formats:
Limited Edition 12" Promo (750 copies) (SOS1)
Release Date:
1 May 1997
Promo FM includes two floor friendly tunes from the Sons' debut album, together with a fabulous cut-up samplefest courtesy of the group's DJ Silencer. 'The Golden Age Of Men's Music' has very little to do with the Sons regular output, it's just a gift from them to you. Essentially it is what it says, a homage to the days when music was made by real men with proper instruments...
Whether you choose to use bits of it as a DJ tool, create your own version with two copies of the twelve, or play it in its entirety, 'The Golden Age Of Men's Music' should certainly raise a few eyebrows. But do take note: for obvious reasons, the track will never be fully released.
However, through the nefarious avenues of mailorder and the internet, this taste of the underground can be experienced. For as long as the remaining copies exist on our shelf.
"London Swings...like a hanged man"
- attributed to The Sons Of Silence, '97
TRACKS
A1. Ain't We Grand
A2. Going To Fast
B1. The Golden Age of Men's Music
B2. Put Me On Plastic
B3. Early Morning Dougal
B4. More Reasons (Hackster)
B5. Rolling Rocks
B6. Fluff Knife
B7. Lux Lights Up Our Lives
B8. Further Back and Faster
B9. Tom's Lovely Ladies
B10. Close, But...
B11. Flies Have No Shame
B12. Sand Between My Toes
B13. Deep Joy