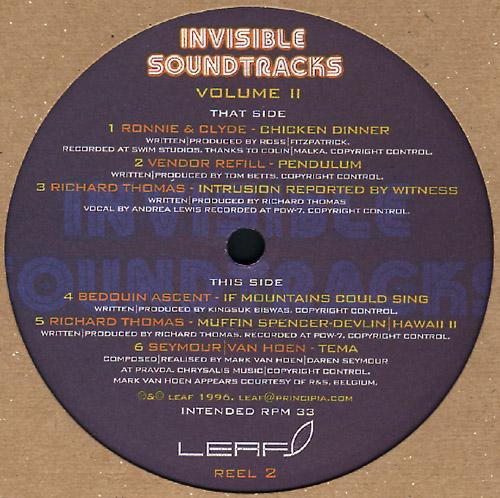 Invisible Soundtracks Volume II
by
Various Artists
Formats:
Limited Edition 12" EP (REEL 2)
Release Date:
8 July 1996
This is the second volume of Invisible Soundtracks, The Leaf Label's intermittent project that gathers strands of vistic sounds from eclectic, contemporary artists. Our aim is to harvest image-provoking tone-tales instead of simple abstract ambience. All tracks are recorded exclusively for this project. The first instalment brought together Disjecta, Being, (both debuts) and Gescom, this time the kaleidoscope with landscape within brings us:
RONNIE AND CLYDE: precocious drum and bass auteurs from nice south west London coming at you with the breathtaking panoramic 'Chicken Dinner'. Each breakbeat sparks an image.
VENDOR REFILL: the first of this EP's debuts, Tom Betts 'Pendulum' is an
expansive, beatific swoon of patient beats and sparse, spellbinding tones.
RICHARD THOMAS: is the second debutant; his twin bizarre, fukkup distortions emanate from Mid-Wales. Thomas has gone on to record for Lo Recordings.
BEDOUIN ASCENT: needs no intro, as Biz sandblasts the senses with this stark deeeep space missive. (Too many records to list)
SEYMOUR/VAN HOEN: Mark Van Hoen (Locust) and Daren Seymour (Seefeel/Scala) reprise their 'Aurobindo:Involution' album (on Touch) with 'Tema', a cavernous yet sublime lament based on ancient Russian film music from the darkest places. This is the only other track the duo have recorded.
TRACKS
1. Ronnie & Clyde - Chicken Dinner
2. Vendor Refill - Pendulum
3. Richard Thomas - Intrusion Reported By Witness
4. Bedouin Ascent - If Mountains Could Sing
5. Richard Thomas - Muffin Spencer-Devlin/Hawaii II
6. Seymour/Van Hoen - Tema