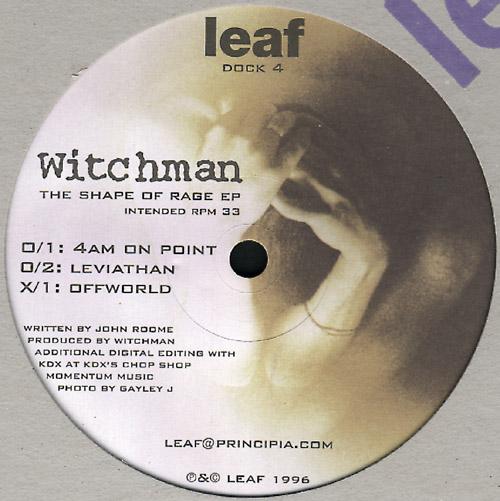 The Shape Of Rage
by
Witchman
Formats:
12" EP (deleted) (DOCK 4)
Release Date:
18 March 1996
WITCHMAN, one man; John Roome. His debut recording, The Main Vein EP was released by Blue Angel/Rising High in Autumn 1995. The Shape Of Rage, his second offering, was his only release on The Leaf Label. The Shape Of Rage takes three distinct forms:
'4am On Point': a languid, atmospheric take on the Morricone thing. Lurid phat beat details with a semi-conscious sense of drama.
'Leviathan': fukked up drum 'n' bass ricochets through a mazey fx selection.
'Offworld': WITCHMAN drags breakbeat culture through an epic, constantly evolving dubby symphony - destination unknown...
"The past is another country; we no longer live there!"
TRACKS
A1. 4am On Point
A2. Leviathan
B1. Offworld