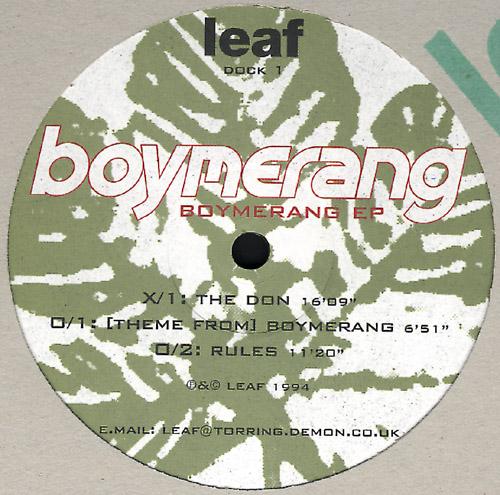 Boymerang EP
by
Boymerang
Formats:
Limited Edition 12" EP (deleted) (DOCK 1)
Release Date:
30 January 1995
The Boymerang EP was the first ever release on The Leaf Label, going all the way back to 1995. Just 1,000 copies were pressed.
The music that Graham Sutton made as Boymerang bears little relation to his work as member-cum-prime mover of the highly acclaimed Bark Psychosis ("...the real sound of summer in the city - where the hottest day of the year is also the most polluted of the decade" The Wire). The only common strand perhaps, is wilful obstinancy. Like Bark Psychosis, Boymerang may be difficult, extreme even, but it can also be serene and bewitching, and similarly, always ultimately breathtaking. This eponymous release was Sutton's first as Boymerang.
'The Don' and 'Rules' were written with fellow Bark Daniel Gish, during London's incredible summer of 1994. Upon hearing these astonishing tracks, two associates of the band (Tony Morley and Julian Carrera) decided the world would be infinitely worse off should they never be released, and The Leaf Label was formed primarily to see to this. Subsequently, Graham knocked up '(Theme From) Boymerang' to complete the cosy threesome.
1. 'The Don': Best heard 33,000 feet above the continent. 16 minutes of pure electro-glide.
2. '(Theme from) Boymerang': Systems jungle. Oh yes.
3. 'Rules': There are no rules. No, there are rules.