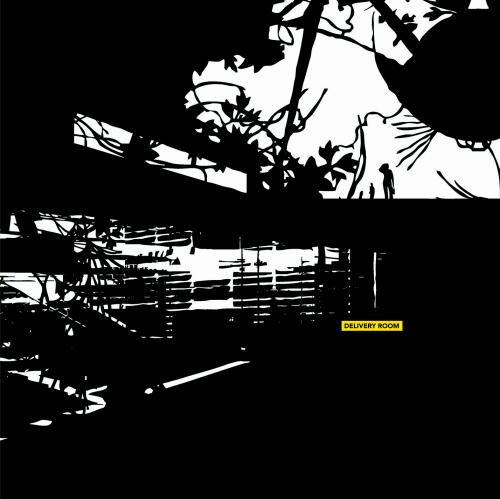 Delivery Room
by
Various Artists
Formats:
Budget-Priced Sampler CD (BAY 37CD) Digital (BAY 37E)
Release Date:
4 May 2004
A full-length compilation album for the price of a CD single, Delivery Room followd on from 2002's Lost For Words and the Osmosis sampler from 1999.
The release of the compilation coincided with the launch of The Leaf Label's first proper website. Both CD and website followed a 360˚, room-based aesthetic and were designed and built by the Non-Format team.
This sampler demonstrates how far the label has come, with an increasing focus on the middleground between electronics and more traditional instrumentation. Delivery Room gives you a chance to hear tracks from recent Leaf albums; tracks from forthcoming releases by recent signings A Hawk And A Hacksaw, Icarus, and Bill Wells; and a selection of exclusive tracks by established artists from Leaf's international roster. Something for everyone, then...
Bill Wells, Stefan Schneider & Annie Whitehead
Falkirk, Scotland, Düsseldorf, Germany & London, England
Three artists who are well known in their own right came together in Berlin to record eight improvised pieces, now released as Pick Up Sticks. Bill has recorded for Domino and Geographic as the Bill Wells Trio and Octet, and with Belle & Sebastian, Arab Strap, The Pastels and many more. Stefan was a founding member of Kreidler, continues to record with To Rococo Rot and alone as Mapstation. Annie's trombone has graced recordings by Robert Wyatt, Elvis Costello, Charlie Watts, Dr John, Paul Weller and numerous others…
Murcof
Tijuana, Mexico
www.murcof.com
Taken form the forthcoming Utopía collection, which rounds up various remixes and exclusive tracks prior to the release of Murcof's second album proper this autumn. 'Memoria' was originally released by Sutekh's Context label, and subsequently appeared on Murcof's debut album Martes. This stunning remix has already been released on the Utopía Remixes 12". We feel sure you will be hearing a lot more of Sutekh soon. 'Una' is previously unreleased.
Icarus
London, England
www.icarus.nu
Sam Britton and Ollie Bown release their fifth album as Icarus, I Tweet The Birdy Electric, on The Leaf Label at the end of April, following releases on Hydrogen Dukebox, Output and their own Not Applicable imprint. Drawing on classical, concrete and jazz influences as well as contemporary electronic music, the album is a high water mark in their progress from drum & bass pioneers to fully fledged laptop auteurs.
Caribou (formerly Dan Snaith's Manitoba)
Toronto, Canada/London, England
www.caribou.fm
Featuring vocals by the enigmatic Koushik (Text Records/Stones Throw), 'Crayon' is featured across Europe in T-Mobile's current TV campaign. Taken from Leaf's biggest selling release to date, Up In Flames. Currently touring in North America, Central Europe and Australia, Dan will soon begin recording the follow up in London.
A Hawk And A Hacksaw
Leicestershire, England/New Mexico, USA
www.ahawkandahacksaw.co.uk
Jeremy Barnes has been a member of Neutral Milk Hotel, Bablicon and The Gerbils, but his debut album as A Hawk And A Hacksaw showcases his best work to date. Originally released on Olivia Tremor Control's Cloud Recordings label in the US, AHAAH are now signed to The Leaf Label for the world.
Asa-Chang & Junray
Tokyo, Japan
www.junray.com
'Parlor' is taken from a recent Japanese EP release, and this is the first time it's been heard outside Japan. Asa-Chang is currently working on the follow up to 2002's award winning Jun Ray Song Chang album.
310
New York, Seattle & Los Angeles, USA
www.310.org
One of the standout cuts from their fifth album, Recessional, 'Exumix' started life as a remix of 'Brouillarta' by Voodoo Muzak. The rework was so good that it was eventually subsumed into their own record.
Colleen
Paris, France
www.colleenplays.org
Cécile Schott's debut album, Everyone Alive Wants Answers, was released last summer and has been an international success, both critically and with the record buying public. She has played live across Europe, and has been been invited to score two separate French movies. She is currently working on the follow up, to be released early next year, as well as a collaborative short film.
Rob Ellis
Somerset & London, England
www.robellis.net
Since the release of the first volume of Music For The Home, PJ Harvey collaborator Rob Ellis has worked and recorded with Marianne Faithfull , Martine Topley-Bird, Charlotte Hatherley (from Ash), Marlene Kuntz (Italy), Kitty Wu (Denmark) and Madrugada (Norway). Vol. 2 finds him back on his own at the piano keyboard, in fine form.
Riow Arai
Tokyo, Japan
www.riowarai.com
Japanese producer Riow Arai released Mind Edit on Leaf at the tail end of 2003. This track is taken from the preceding 12", and is previously unavailable on CD.
Gorodisch
London, England
'Alexithymia' is an demo recording of the main theme of Stephen Cracknell's long awaited Gorodisch album, the soundtrack to a theatre piece recently performed at The Tramway in Glasgow. His other musical project, The Memory Band, release their debut album in June on Hungry Hill.
Clue To Kalo
Adelaide, Australia
www.cluetokalo.com
'Ignore The Forest Floor' is a demo version of a track to be included on Mark Mitchell's second album as Clue To Kalo, likely to be released in spring 2005. The new recordings suggest a move away from the the electronic nature of his debut, Come Here When You Sleepwalk. Clue To Kalo are released by Mush Records outside Europe.
A Small Good Thing
London, Leeds & Hull, England
'Owl In A Box' is a previously unreleased track by ASGT, who have been recording on and off for the last decade. ASGT was spawned from the legendary O Yuki Conjugate, who also begat the much missed Sons Of Silence. Their last album was a tribute to spaghetti soundtracks, Slim Westerns Vol 2.
TRACKS
1. Bill Wells, Stefan Schneider, Annie Whitehead & Barbara Morgenstern - Pick Up Sticks
2. Murcof - Memoria (Sutekh's Trisagion mix)
3. Icarus - Essen
4. Caribou (formerly Dan Snaith's Manitoba) - Crayon
5. A Hawk And A Hacksaw - Maremaillette
6. Asa-Chang & Junray - Parlor
7. Icarus - Gnog
8. Murcof - Una
9. 310 - ExuMix
10. Colleen - Ritournelle
11. Rob Ellis - Music For The Home No.8 - 2 / 10 / 02
12. A Hawk And A Hacksaw - A Kernel
13. Riow Arai - Eclipse
14. Bill Wells, Stefan Schneider, Annie Whitehead & Barbara Morgenstern - A Soldier's Shoulder
15. Gorodisch - Alexithymia (demo)
16. Rob Ellis - Four Pictures With Debussy - No.1 60 Francs
17. Clue To Kalo - Ignore The Forest Floor (demo)
18. A Small Good Thing - Owl In A Box
REVIEWS
The Milkfactory