A Crash Course For The Ravers
Published 15 January, 2016 by DM
The Leaf Label's Office Radio has taken a week off, while we listened to the entire David Bowie back catalogue in order. It seemed like the only way to celebrate the life of an artist who has given us so much, whose influence was so wide ranging it is impossible to imagine the music world without him in it.
We attempted a list of our ten favourite Bowie tracks. We failed. Here are thirteen.
---
Leaf 20 Box Set Design
Published 28 October, 2015 by BP
Take a look at the beautiful work Split are producing to bring the Leaf 20 box set to fruition. Here is a photo of the box sample and mock-ups of the contents. Tempted? Yeah.
Thanks to all those who have already pre-ordered box sets and reissues.
The Box

Contents: 10 landmark LPs on white vinyl in original artwork plus hand-printed over wraps, 10 CDs, poster, print

Mock-up of the outer wraps for each LP – the final artwork will be printed by hand using a section of wood from a 20-year-old Japanese larch tree, sourced in Dalby Forest, North Yorkshire

Leaf 20 inner sleeve design

930mm x 620mm fold out poster, featuring an essay by Rob Young and the complete Leaf album catalogue, printed silver on 120gsm Cyclus Offset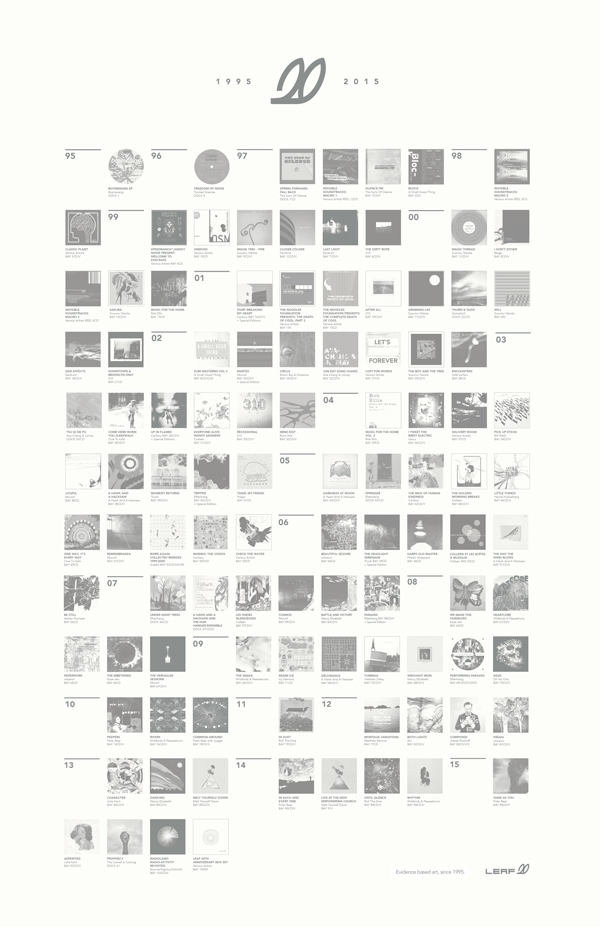 ---
Office Radio August 2015
Published 01 September, 2015 by DM
There is now over 24 hours of gold on The Leaf Label's Office Radio Spotify playlist.
This is what we've added recently:
Holiday Time – Hildegard Knef
New Life – Depeche Mode
Yacha (Peaking Lights Dub Mix) – Sinkane
Small Car – Marvin Pontiac
Hang Tough – Lilith Ai
Down the Highway – Melvin Ukachi
a1 – Ólafur Arnalds, Nils Frahm
Night Time In The Switching Yard – Warren Zevon
Swim – Nicolas Jaar
---
Office Radio June 2015
Published 21 July, 2015 by BP
Like most species of shark, The Leaf Label's Office Radio playlist never sleeps. Get following to stay current.
Here is a mega update of what we've been listening to lately:
The Biz Vs. The Nuge – Beastie Boys
Big Pimpin' – Jay-Z
People Get Ready – The Persuasions
Fugazi – Fugazi
French Synth Wave (St Etienne 1981) – Cha Cha Guitri
Ix – Stephan Bodzin
Don't You Know – Jan Hammer Group
A Song For You – Aretha Franklin
Yermande (Prophet 5 Mix) – Mark Ernestus' Ndagga Rhythm Force with Mbene Diatta Seck
Oops (Oh My) - Tweet
Ratchet – Shamir
Life on Mars – Dexter Wansel
From Kinshasa – Mbongwana Star
Was Dog a Doughnut? – Cat Stevens
Step On You – Joe Vitale
Jin Go Lo Ba (Drums of Passion) – Babatunde Olatunji
World Eater – Black Meteoric Star
Stereotype – The Specials
Got To Have Your Love - Mantronix
Long Lost Tapes 1970 – Peter Walker
Exploitation – Roisin Murphy
Tiende! – DJ Khalab with Clap! Clap!
Ba Power – Bassekou Kouyate
Marhaba – Maalem Mahmoud Guinia with Floating Points and James Holden
Blood – Algiers
Work It to the Bone – LNR
Look up in the Sky (Négro Nature) – Francis The Great
All Roads Lead To Rome – The Stranglers
---
RECENT POSTS
ARCHIVED POSTS
2016 January
2015 October
2015 September
2015 July
2015 March
2015 January
2014 October
2014 August
2014 May
2014 April
2014 March
2014 February
2013 December
2013 July
2013 June
2013 May
2013 April
2013 March
2013 February
2012 December
2012 November
2012 October
2012 September
2012 August
2012 May
2012 April
2012 March
2012 February
2012 January
2011 December
2011 November
2011 October
2011 September
2011 June
2011 May
2011 April
2011 March
2011 February
2011 January
2010 December
2010 November
2010 October
2010 September
2010 August
2010 July
2010 June
2010 May
2010 April
2010 March
2010 February
2010 January
2009 December
2009 November
2009 September
2009 August
2009 July
2009 June
2009 May
2009 April
2009 March
2009 February
2009 January
2008 October
2008 April
RSS
Subscribe to the blog as an RSS Feed.