A Crash Course For The Ravers
Published 15 January, 2016 by DM
The Leaf Label's Office Radio has taken a week off, while we listened to the entire David Bowie back catalogue in order. It seemed like the only way to celebrate the life of an artist who has given us so much, whose influence was so wide ranging it is impossible to imagine the music world without him in it.
We attempted a list of our ten favourite Bowie tracks. We failed. Here are thirteen.
---
Office Radio December 2015
Published 14 December, 2015 by BP
Is it good music you're after? OK. You need to take a left out of here. You'll pass the all night garage on your right. Take the third exit on the roundabout. Follow The Leaf Label's Office Radio playlist out of town then go straight on till morning.
Here's what we've been listening to lately:
Echo & the Bunnymen - Back Of Love
Patrick Cowley - Muscle Up
Pilooski - Isola
This Mortal Coil - You and Your Sister
Batu - Cardinal
Weval - Gimme Some
Andre Bratten & Susanne Sundfør - Cascade of Events
The Streets - Fit But You Know It
Bauhaus - Dark Entries
Cubenx - F.All
---
Office Radio November 2015
Published 20 November, 2015 by BP
Follow The Leaf Label's Office Radio. What could possibly go wrong?
Some recent additions:
Missy Elliott - WTF (Where They From) (feat. Pharrell Williams)
Tindersticks - Hey Lucinda
DJ Marfox - Eu Sei Quem Sou
Margo Thunder - Expressway To Your Heart
The Sequence - Funk You Up
Juicy - Sugar Free
Beat Spacek - Alone in Da Sun
DJ Khalab & Baba Sissoko - Magny
Got A Girl - Did We Live Too Fast
Nick Cave & The Bad Seeds - Jubilee Street
Japan - Life in Tokyo
Soccer96 - Constellation
Clap! Clap! - (S) Serendipity
The Temptations - Message From A Black Man
Billy Preston - I'm So Tired
---
Leaf 20 Box Set Design
Published 28 October, 2015 by BP
Take a look at the beautiful work Split are producing to bring the Leaf 20 box set to fruition. Here is a photo of the box sample and mock-ups of the contents. Tempted? Yeah.
Thanks to all those who have already pre-ordered box sets and reissues.
The Box

Contents: 10 landmark LPs on white vinyl in original artwork plus hand-printed over wraps, 10 CDs, poster, print

Mock-up of the outer wraps for each LP – the final artwork will be printed by hand using a section of wood from a 20-year-old Japanese larch tree, sourced in Dalby Forest, North Yorkshire

Leaf 20 inner sleeve design

930mm x 620mm fold out poster, featuring an essay by Rob Young and the complete Leaf album catalogue, printed silver on 120gsm Cyclus Offset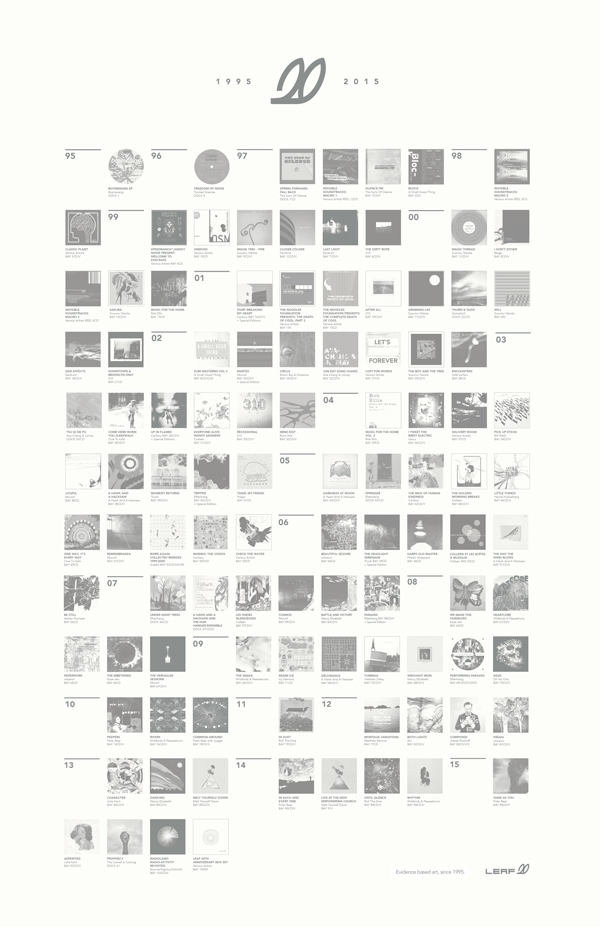 ---
RECENT POSTS
ARCHIVED POSTS
2016 January
2015 December
2015 November
2015 October
2015 September
2015 July
2015 March
2015 January
2014 October
2014 August
2014 May
2014 April
2014 March
2014 February
2013 December
2013 July
2013 June
2013 May
2013 April
2013 March
2013 February
2012 December
2012 November
2012 October
2012 September
2012 August
2012 May
2012 April
2012 March
2012 February
2012 January
2011 December
2011 November
2011 October
2011 September
2011 June
2011 May
2011 April
2011 March
2011 February
2011 January
2010 December
2010 November
2010 October
2010 September
2010 August
2010 July
2010 June
2010 May
2010 April
2010 March
2010 February
2010 January
2009 December
2009 November
2009 September
2009 August
2009 July
2009 June
2009 May
2009 April
2009 March
2009 February
2009 January
2008 October
2008 April
RSS
Subscribe to the blog as an RSS Feed.