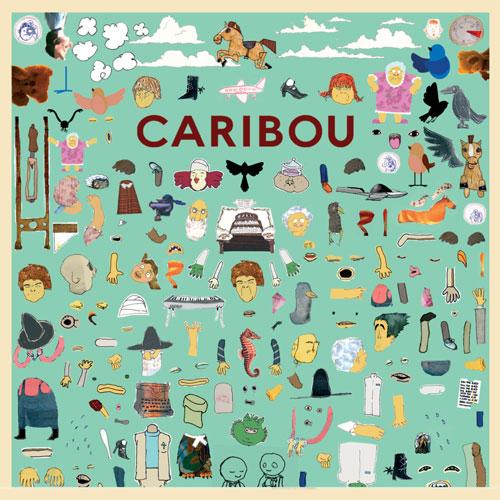 Marino: The Videos
by
Caribou
Formats:
DVD+CD (BAY 55DVD) Digital (4 audio tracks only) (BAY 55E)
Release Date:
31 October 2005
Those of you lucky enough to have caught the Caribou live juggernaut as it's ploughed its way round the world will have been treated to an audio-visual experience to be remembered. At the very least, you've probably seen the sparkly videos clips for 'Yeti', 'Skunks' or 'Jacknuggeted' on the telly.
Now you don't even have to leave the house, because you can take the experience home with you. Marino contains over 60 minutes of music videos - one for almost every song from Caribou's two most recent albums The Milk Of Human Kindness and Up In Flames - plus a bonus CD containing 4 previously unreleased tracks from The Milk Of Human Kindness sessions. The whole lot comes in a deluxe DVD-sized book package with an extensive booklet.
The videos featured were all made by Dublin's Delicious 9 outfit, who have produced all the visual content for the Manitoba/Caribou tours. Most of the images in the videos were hand-drawn and later coloured on a computer, then meticulously synchronized with the kaleidoscopic swirl of electronics and the heavy, heavy double drummer attack that is the Caribou experience. The DVD contains a special feature, comprising of a narrative edit of the videos from The Milk Of Human Kindness, which tell an old fashioned story of Boy Meets Girl, with a few twists…
PLEASE NOTE: The DVD format is NTSC region free. It requires an NTSC compatible DVD player and TV, which should include most modern units.
DVD NTSC & PAL/SECAM info
What you need to know is this NTSC DVDs will play on 95% of DVD systems worldwide. PAL/SECAM DVDs will play on only very few DVD systems outside of countries that use PAL/SECAM systems.
It works like this, almost all DVD players sold in PAL/SECAM countries are multi-standard. This means they will play both PAL/SECAM and NTSC. Only very expensive systems actually convert between the formats, the multi-standard players instead partially convert the NTSC signal to output pseudo-PAL which is easily handled by most modern PAL/SECAM TVs. This works surprisingly well and most users have more problems over region coding (which is a separate issue) than NTSC/ PAL issues.
The Leaf Label is making every attempt to make clear that although the vast majority of customers will be able to transparently use its DVD products there will be a small percentage who will not be able to enjoy them on their current equipment. For that reason we urge all potential customers to make sure that they are able to view NTSC DVD on their systems. The Leal Label cannot be held responsible for any disappointment.
For more information please read a much fuller exposition on these issues at DVD Demistified.
Region coding
What you need to know is this Region coding is a device, put into the coding on the DVD itself, which disables those DVD discs from playing in regions other than they are coded for. It is in no way an essential part of the DVD code, merely a device for enabling movie multinationals to protect their pricing differentials and release schedules. This DVD has region coding 0 which means it can be played anywhere in the world on any device that can accommodate it.
TRACKS
DVD:
1. Yeti
2. A Final Warning
3. Lord Leopard
4. Bees
5. Hello Hammerheads
6. Brahminy Kite
7. Pelican Narrows
8. Barnowl
9. I've Lived On A Dirt Road All My Life
10. Skunks
11. Jacknuggeted
12. Hendrix With Ko
13. Bijoux
14. Twins
15. Crayon
16. Every Time She Turns Round It's Her Birthday
CD:
1. The Barn
2. Marino
3. Handelschnapp
4. Sunsesame
REVIEWS
The Milkfactory