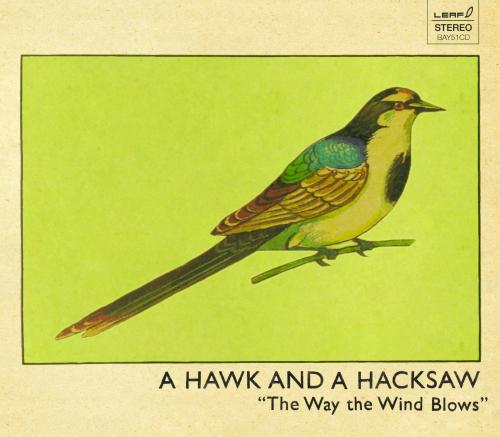 The Way The Wind Blows
by
A Hawk And A Hacksaw
Formats:
CD (BAY 51CD) Limited Edition Vinyl LP (BAY 51V) 2015 Leaf 20 Edition Black Vinyl LP + CD (BAY 51V) 2015 Leaf 20 Edition White Vinyl LP + CD (BAY 51V) Digital (BAY 51E)
Release Date:
9 October 2006
The Way The Wind Blows is the incandescent third album from A Hawk And A Hacksaw, and was partly recorded in a remote Romanian village with members of the justly admired Balkan folk group, Fanfare Ciocarlia. Now a duo comprising songwriter Jeremy Barnes (drums, accordion, vocals) and Heather Trost (violin), AHAAH's music is a joyous and romantic romp through traditional sounds, interspersing the duo's passionate musical duets with exuberant brass band stomp.
At age 18, Jeremy Barnes departed from his hometown of Albuquerque, New Mexico with a hopeful spirit of adventure, in hot pursuit of music. Travelling in France, living in New York and Chicago (where he played drums for the cult group Neutral Milk Hotel), Barnes finally settled in Leicester, England at the turn of the millennium. There he became a postman. This unlikely turn of events ("It was horrible, but I'm still proud to have the Royal Mail uniform" resulted in Jeremy briefly drumming for Broadcast during their HaHa Sound period, while secretly tinkering away on what would blossom into A Hawk And A Hacksaw.
Arriving in 2002 with a self-titled debut recorded in France, accordion, piano and bursts of drunken chorus recalled Kurt Weill orchestrations and the whimsical side of Tom Waits, with a flourish of PT Barnum deceits and backwoods carnivals, top hats and curly moustaches. Essentially a one-man band, Barnes was toe-dipping in waters that would soon run much deeper.
While delivering the mail in Leicester, every Sunday Barnes would volunteer at the local refugee centre. "In a run down cafeteria there were people from China, Iraq, Iran, Roma from Romania, the Czech Republic, Bulgaria. There were Africans, Pole and Kurds. I mostly played with Iraqis and Kurds; the Roma kept to themselves. I thought there was some sort of unapproachable barrier between me and these people whom I so admired. But there wasn't."
The experience was a revelation. Throwing in his postman's hat, Jeremy set off on a journey that would lead him all the way home to Albuquerque.
After a stint in Prague, where the celebrated follow-up Darkness at Noon (released in 2005) was composed in its entirety, Jeremy moved back to his hometown, after some 10 years absence. Almost immediately, he met his paramour, the violinist Heather Trost, whose immeasurable influence on A Hawk And A Hacksaw can be seen in the intense stage rapport the duo have live, and a visceral sense of joy that rarely leaves an audience unaffected.
"When I met Heather, I asked her about Bela Bartok. That was our first conversation," says Jeremy. "She played me Bartok's 'Six Roumanian Dances'. We practiced and listened to music from places like Greece, Hungary, Turkey and especially Romania."
A member of the Albuquerque klezmer group – The Nahalot Shalom Community Klezmer Orchestra – who perform a transplanted version of a traditional Jewish music native to eastern Europe pre-WWII, Trost was already playing music that had taken a hold on Jeremy. With the exodus of Jews from previous Europe, entire cultures and musical traditions like klezmer dwindled, only to resurface in places like New York in the late 70s, recontextualized and brimming with new life. Thus inspired, Jeremy and Heather create new songs, adapting and co-opting elements of other traditions: American folk, Roma music, Turkish music (notably 'God Bless The Ottoman Empire'), western pop (echoes of Ray Davies and George Harrison can be heard) and the timeless international language of the one-man band.
April 2006. Jeremy embarks on a wild goose chase. He has the phone number of Henry Ernst, manager of Fanfare Ciocarlia (the gypsy brass band who recently picked up the award for 'Best European Artist' at the BBC Radio 3 World Music Awards, and feature on the Felix 'Basement Jaxx' Buxton compiled Gypsy Beats And Balkan Bangers album), takes his savings and flies to Bucharest. He rings the number. Upon meeting and drinking together for some hours, Ernst agrees to take Jeremy to meet the band. The next day, they drive for nine hours to a tiny rural community, not on any map, near the Ukraine border. Barnes sets up a makeshift studio in the front room of a local's house for two weeks.
Partially recorded in the tiny Moldovan village of Zece Prajini, Romania, The Way The Wind Blows was begun in a place where there are no pavements or plumbing, and farmers drive horse-drawn carts instead of cars. But the town is suffused with a forgotten music, harboured here for decades. Out of every open window comes the sounds of brass instruments, playing a joyous mixture of Jewish and gypsy music that originally fused in the early 20th century at weddings and other celebrations.
"I was treated like family," Jeremy recalls. "The Roma were just as curious about me as I was about them. What we played together was not traditional Romanian music by any means – you will have to look elsewhere for that – but these amazing musicians certainly etched into the record their own sound, that I could not have found anywhere else."
Later in May '06, Jeremy and Heather completed work on the album in Chicago, and at home in Albuquerque, with help from a 19-year-old local trumpet player called Zach Condon (later to become Beirut). "He was the only other person in town that listened to the same music as we did."
This album was reissued on black and white vinyl as part of Leaf 20.
TRACKS
1. In The River
2. The Way The Wind Blows
3. Song For Joseph
4. Fernando's Giampari
5. God Bless The Ottoman Empire
6. Waltz For Strings And Tuba
7. Oporto
8. Gadje Sirba
9. The Sparrow
10. Salt Water
11. There Is A River In Galisteo
REVIEWS
Metacritic
All Music Guide