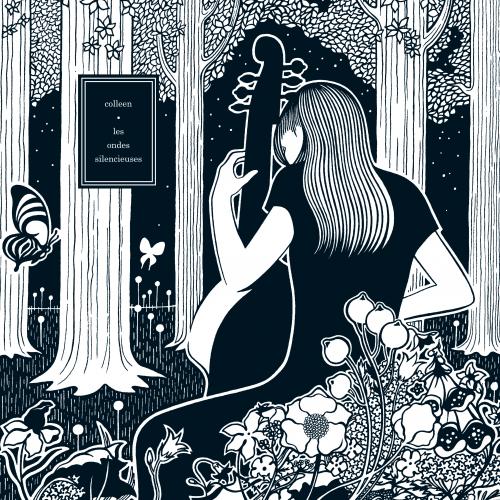 Les Ondes Silencieuses
by
Colleen
Formats:
CD (BAY 57CD) Limited Edition Gatefold Vinyl LP (BAY 57V) 2017 Record Store Day Clear Vinyl LP (BAY 57VX) Digital (BAY 57E)
Release Date:
21 May 2007
Cécile Schott returns with her third album as Colleen, the highly personal but distinctly more adventurous and confident Les Ondes Silencieuses, which follows her one-off Colleen Et Les Boîtes À Musique project from late 2006.
This album signals a change of approach for Parisienne Schott. Gone are the samples and loops of old, as the emphasis moves to the natural tones produced by a range of unusual live instruments, largely unadorned.
The seeds for this album were sown when the 15–year-old Schott happened upon the film Tous Les Matins Du Monde, based on the life of Marin Marais, the acclaimed 17th Century viola da gamba (or viol) player and composer. It was the first time Schott had seen or heard a viol. The sound and mystery of the instrument, which remain rooted in the context of period music, set her off on an obsession which reached fruition in 2005 when she found a viola maker to custom-build an instrument for her. She found the viola da gamba more fascinating to play than she had ever imagined. Bowed like a 'cello, but with seven strings and fretted like a guitar, the sound produced was so rich and naturally resonant that the loop-based works that had become a defining characteristic of Colleen's work could be laid to rest.
The viola da gamba was supplemented with another Baroque instrument that Schott had dreamed of, the spinet, a smaller relative of the harpsichord. The versatile clarinet was also recruited, mainly due to its jazz connotations, along with Schott's trusted classical guitar. Crystal glasses were added for percussive effect. And that's everything you hear on the album.
A whole new approach to composing was needed, both in a more traditional and, paradoxically, a more improvised way. This fresh modus operandi crucially opened up her songs to a greater diversity in song construction and melody. Chord changes, greater use of space and tempo variations were all now possible. The sounds created were key to the overall feel of the record.
Unlike Schott's previous album, The Golden Morning Breaks, where the sounds created from each instrument often ended up disguising their identities, the idea with Les Ondes Silencieuses was to create a platform using the intended sound, and then to augment this with more of her innovation and personality. 'Blue Sands', for example, initially gives the impression that it's performed on multiple instruments, but is in fact comprised of sounds generated solely by the viola da gamba by bowing, finger picking and striking with percussion mallets.
The album's title can be interpreted in a number of ways. 'Ondes' translates as 'still waters' or 'waves' (as in 'sound waves'), and Schott's intention was to refer to the quiet stillness of calm waters, which by definition can never be completely at rest. This metaphor fittingly describes her music, where each listen reveals more of its elegance and charm. The expression is also the French name given to the infrasonic precursors to earthquakes that can only be heard by animals – again relating to the subconscious reaction evoked by such personal works.
This album was reissued on limited edition clear vinyl for Record Store Day 2017.
TRACKS
1. This Place In Time
2. Le Labyrinthe
3. Sun Against My Eyes
4. Les Ondes Silencieuses
5. Blue Sands
6. Echoes And Coral
7. Sea Of Tranquillity
8. Past The Long Black Land
9. Le Bateau
REVIEWS
All Music Guide
The Milkfactory