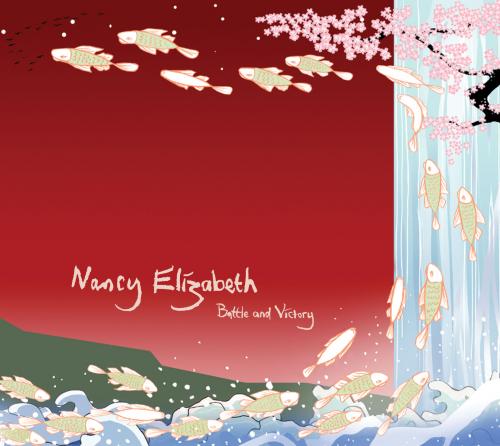 Battle and Victory
by
Nancy Elizabeth
Formats:
CD (BAY 60CD) Limited Edition Vinyl LP (BAY 60V) Digital (BAY 60E)
Release Date:
24 September 2007
With an intuitive understanding of melody and dynamics, Nancy Elizabeth brings a refreshingly Northern turn of phrase to her debut album, Battle and Victory.
The Lancashire-born singer's down-to-earth songs are brought to life by her warm and unaffected voice. Unpretentious but effortlessly ambitious, Nancy turns the retro, less-is-more aesthetic of the current acoustic revival on its head. Not content with writing and singing all the songs herself, the 23 year-old also plays most of the instruments, including guitar, khim, Indian harmonium, Appalachian dulcimer and bouzouki, amongst many others.
Prominently featured is a 22-string Celtic harp, which she first picked up a little over two years ago, after an inspirational chance meeting with a harp player at a Liverpool gallery. Not long afterwards she received a modest award from a music foundation, and within days had spent it all on the perfect instrument, which has become a cornerstone of her performances.
The album was recorded in a 17th Century white stone cottage in the remote Welsh countryside, and a village hall outside Manchester, resulting in an intimate, uncontrived gem of a record. Using a minimum of recording equipment, the heartfelt honesty of her songs is revealed, extending to grander, more complex arrangements when the occasion calls, and bringing in friends to add cello, horns and percussion. While her work is never in thrall to any particular artist or genre, Nancy's music calls to mind aspects of artists as diverse as Nina Nastasia, The Incredible String Band, Radiohead, Jacqui McShee, Mogwai, Talk Talk and Led Zeppelin.
Immersed in music from an early age ("music has always seemed more natural than talking," she says), Nancy has been writing songs since she was 14, and has performed live for six years. In the last twelve months she has appeared at the Green Man Festival and played alongside A Hawk And A Hacksaw, Tunng and James Yorkston among others. She is currently putting together a small touring group to augment her already much-loved acoustic 'one-girl-band' shows which feature primarily acoustic guitar and her beloved harp.
Nancy's debut EP, The Wheel Turning King, was released in 2006 by Manchester's [Timbreland Recordings, under her full name, Nancy Elizabeth Cunliffe (she recently dropped her family name, on the grounds that "no one beyond a two mile radius of Wigan can pronounce 'Cunliffe' properly").
Reviews
"A result" NME
"her matter-of-factness and the subtle momentum of the arrangements lend it a gentle, guileful enchantment" 3/5 Uncut
"Nancy Elizabeth is Northern England's most beguiling new folk singer…enchanting" Flux
"Luscious and vivacious…tinged with darkness and unsettling, yet enthralling…a record which shares perhaps more with latter-day Radiohead than anything else."
Total:spec, October 2007
"a stunning instrumental achievement" 7/10 Drowned In Sound
"It's one of the most astonishing releases full stop" Kruger Magazine
"Battle and Victory is that great record that we all need to come at least once a year...Brilliant" Bearded Magazine
"True magic" Glasswerk
TRACKS
1. I'm Like The Paper
2. I Used To Try
3. Off With Your Axe
4. Remote Past
5. Coriander
6. 8 Brown Legs
7. Electric
8. Hey Son
9. Weakened Bow
10. What Is Human
11. Lung
12. How Can I Stop
13. Battle And Victory
REVIEWS
All Music Guide
BBC
OTHER
Bandcamp