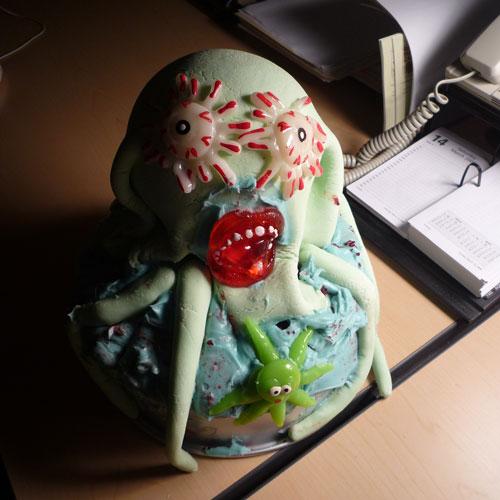 So Many Lemons
by
volcano!
Formats:
Digital (BLOW 1)
Release Date:
6 April 2009 'So Many Lemons' is the brand new single (and music video) from Chicago rock trio volcano! and heralds a European tour in April. 'So Many Lemons' is a continuation of the new and unexplored melodic territory of 2008's Paperwork album, and was written and recorded with the accompanying video in mind.
Volcano! have evolved from their cathartic noise beginnings to incorporate consistently catchier melodies into their arsenal of chaotic sounds. The latest development, 'So Many Lemons' builds on volcano!'s signature elements: Aaron With's frenetic, uplifting guitar melodies, Mark Cartwright's unique palate of electronic textures and heavy synth basslines, and Sam Scranton's deadly percussion.
The verse and chorus of 'So Many Lemons' play like a cover of Jay-Z's 'Big Pimpin'' as performed by the Jay-Z Orchestra. But instead of flowing rhymes, here's MC With singing like a desperate David Byrne while scratching out sunny Sonny Sharrock guitar riffs. Meanwhile Cartwright blasts Kanye West synths on the offbeats and Scranton plays Led Zeppelin/Deerhoof hip-hop drums. After years of avoiding vocal harmonies (because, as vocalist With has stated, "No vocalist is my equal, I will not share the stage"), volcano! have finally found a backing vocalist to complement With's voice in folk musician (and friend), Jenny Gillespie.
Lyrically the track deals with some rather terrifying visions of death that With has occasionally had while treading the streets of volcano!'s hometown Chicago - the newly crowned Murder Capitol of the USA. With mocks his own fears in a dialogue with Death, who surprisingly has a soft side and makes use of vernacular such as "flapdoodle" and "poppycock" throughout the conversation...

This playful element is further developed in the video clip for the song (http://www.youtube.com/watch?v=Ov4TFOyTB0k), in which the three members of volcano! are physically joined as a nanopus – an adorable nine-limbed beast with three faces jutting out of a single, abnormally large head. The video is directed by Peter Galassi and Pat Meegan, who created the supremely eccentric video to Paperwork's lead single 'Africa Just Wants To Have Fun' which has notched up some 150,000 views on Youtube. http://www.youtube.com/watch?v=NFVpCFOOA2o
Also to be found on the download single is a remix of 'Slow Jam' from Paperwork by Lee J. Malcolm of Leeds band Vessels. An alternative take on the album's lead single 'Africa Just Wants To Have Fun', by fellow Chicagoan Erik Schoster of He Can Jog rounds out the release.